A Message from Istanbul
The Turkish Government's War Against Hijab
By Sajjad
Zawaj.com Editor's Note: Turkey's secular military government has for decades been waging a campaign against Islamic practice. As a part of this campaign, women are banned from wearing hijab in public buildings, including government offices, universities, and schools.
April 2002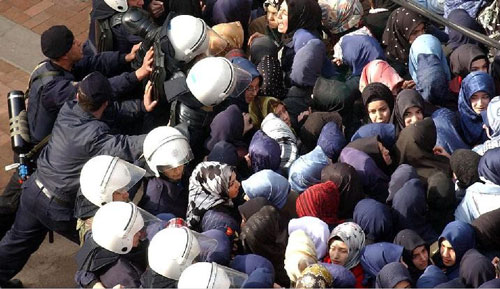 Riot police prevent women in hijaab from entering school. April 17, 2002
Assalamu Alaykum from the lands of Muhammed Al-Faateh, the land of Islaam Bol (Istanbul).
Every day, while I am on my way to work, I see a sight that breaks my heart. I see young girls waiting at the gates of the school, arriving every day, never missing a day in this freezing cold weather, while they know that they will not be allowed to enter the school...all this due to their wearing hijab.
This sight has been repeated numerous times in the past years, but only in front of the universities, but now this has spread to the high schools (secondary schools), ...and it does not stop here. This usually is followed by the arrival of the anti-riot police who begin to push and strike these young women to break up the crowd, and many are taken to the police station.
And I look at some of these young girls, while they look to the sky crying, as if saying: "Oh, Allah...oh Allah...save us from this darkness! All this just because we wear Hijab? Is there no-one to defend us? Do we not have the right to live as you have ordered us? Do we not have the right to complete our studies same as all other schools? Why all this oppression...oh Allah?"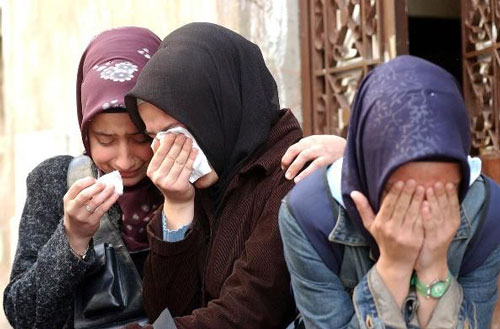 Turkish schoolgirls in hijaab
I remind you brothers and sisters that this land was the last capital of the Islamic Khilaafah, and this sight was never a possibility while it existed.
Sajjad


Articles