Marriage Articles
Conversations with a pregnant wife, Part 1 – "Honey, I have a craving!"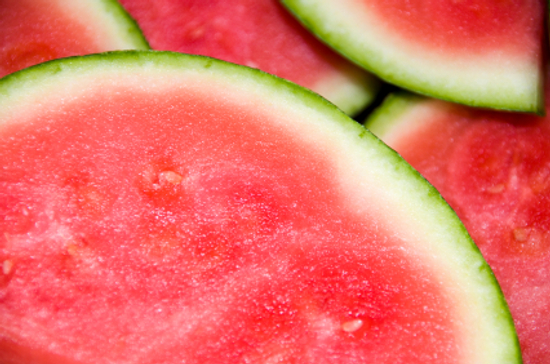 This was originally published as, "Honey, You're Pregnant" on IslamOnline.net
Part 1: Honey, I Have a Craving!
Part 2:  Watch Out, She's Moody!
Part 3:  What's in a Name?
By Yasser Aboudouma
Writer, Civil Engineer – Egypt
There are common arguments, especially in Egypt, that are repeated daily between each husband and his lovely and adorable wife, who by the way is pregnant for the first time!
Usually, the story begins when the wife suspects that she is pregnant. She runs to the nearest lab for a pregnancy test, and once she is confirmed pregnant, all her life is changed and her husband's life is pushed to the edge, or more pointedly, to the verge of collapse.
"I have to see a good doctor," the wife says.
"But, your doctor is good and she has a good reputation," replies the husband.
With the start of a period of pregnancy, there are a lot of requests, orders, and special considerations, and the poor husband has to listen and obey, because her majesty is going through her first pregnancy!
* * *
First Month
Wife: I want to see a male doctor like all my girlfriends. My doctor is old and boring.
Husband: Honey, you are veiled, and there is no necessity to visit a male doctor; and whether your doctor is old or young, what matters is her experience and qualifications. If you don't feel comfortable with your doctor, we can look for another female doctor.
Wife: NO! I know that females are not that experienced in medicine.
Husband: (mumbling) In everything, not only medicine!
The arguments continue till the husband succeeds in convincing his wife that another female doctor would be good, especially that she is a little younger than the previous doctor. But, the wife is still unhappy as the new doctor does not have the latest high technology of ultrasonography.
Wife: See! This doctor also failed to show me the baby.
Husband: Honey, you are still in your first month, there is no baby to see.
Wife: My friend's doctor showed her the baby in her first month, and the baby was moving, plus she could hear his heartbeat.
Husband: Oh yeah! And the baby was walking too, right! In the first month, the baby looks like a dot.
As usual, that argument ends with going to one of the private hospitals where there are the latest medical equipment. At the hospital, the doctor explains to the wife that there is no way any instrument can show a baby, its movement, or its heartbeat, as the baby is not big enough. Finally, they quietly return back home and the wife realizes that she has to wait.
* * *
Second Month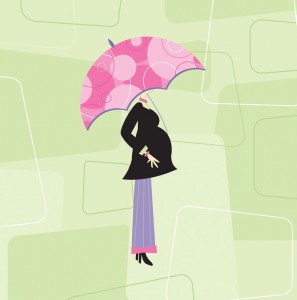 The second month of pregnancy means nausea and cravings for certain foods. Hormones start to increase rapidly, which affects the pregnant woman's behavior with her husband and her colleagues at work. Be careful if you have pregnant women at your company and/or office.
Wife: Honey, I have a craving for watermelon with no seeds.
Husband: I have never heard of that! Watermelon with no seeds!
Wife: That's not my concern. I crave for it and I want it. Do you want our baby to be born with a birthmark?
Wife: I think my tummy is a little bigger than normal. I believe I have twins!
Husband: No, your tummy is still the same, and the doctor told us that you have a single baby, not twins.
Wife: So! Maybe the doctor could not see him.
Day after day, this kind of dialogue goes on and on, especially when the wife goes to work. Expect your pregnant wife to return from work in a bad mood, nervous, and quite, quite mad because …
Wife: (nervously) I have to quit work. I will give them my resignation tomorrow. I can't handle work and all the people there. It's OVER!
Husband: What happened?
Wife: Imagine. At the weekly meeting, my manager suggested something that should be done. I told him that I don't think it's beneficial to work. He kept arguing with me, and he wasn't convinced by what I said.
Husband: That's normal. He is your boss, and he has a right to argue with you about work.
Wife: Men, men, men! You are one of them, and all men are the same – sure you'll defend him. No, he has no right to do so and no right to argue with me; he meant to irritate me. All of the men in the meeting, and the world, have to take a one-way trip to Iraq, and I'm ready to pay for the tickets!
Wife: Also, that girl in the meeting, instead of supporting me and taking my side, she supported him and made more suggestions that I have to implement.
Husband: Honey, it's normal; that girl is your close friend and she has always been kind to you.
Wife: NO! It's not normal. They have to know that I'm pregnant and my increasing hormones affect my mood, so they shouldn't argue with me at all!
Husband: Sweetheart, let's forget all about work – what do we have for dinner today?
Wife: (In a very shy, soft, and passive voice) Honey, do you really want something to eat today? I was nervous today and needed to rest because I was worried about the baby. But there's a tin of tuna in the kitchen.
Husband: What! You will not join me for dinner?
Wife: No. When I had finished the meeting, I returned to my office and ordered some food to help me relax.
Days will pass, and life will crawl along slowly until "this woman" reaches her third month of pregnancy.
* * *
Third Month
In this month, the pregnant wife is assured that she has a single baby. Hormones increase rapidly, which affect the routine of her life and make her feel lazy and sleepy most of the time. She will be curious to see the baby each and every day, and she will want to trace its growth accordingly.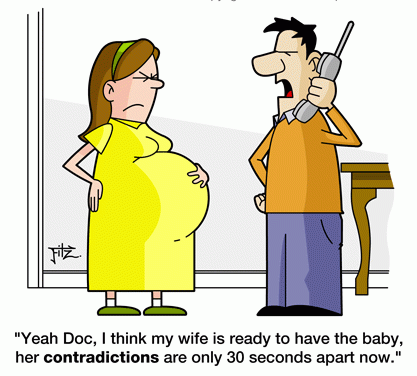 Wife: Yesterday, the doctor didn't show me the baby well. The baby's hand didn't show up clearly.
Husband: Don't worry. The doctor and I saw the baby, and it looked really great.
Wife: I'm not asking for what you and the doctor did or didn't see! I have to re-visit the doctor next week, and I'll ask her to show me the baby.
Husband: She arranged the next appointment for next month, not next week.
Wife: No problem. She won't remember, and my friend told me that her doctor had ultrasound and showed her the baby on a weekly basis.
Husband: Honey, your friend is in her sixth month, while you are in your third.
Wife: Arrrrrgh! Stop arguing with me. You are just like my colleagues at work; useless!
Or the dialogue may go back to the size of the wife's "tummy"!
Wife: Honey, I think my tummy is starting to get bigger.
Husband: No dear, I think it is still the normal size.
Wife: You see, my pregnant friends told me so. They also told me that in the third month my tummy starts to get bigger. Plus, I'll feel the baby's movement and I'll hear his heartbeats too.
Arguments, arguments, arguments; your life will be all about arguments with your sweet, pregnant wife! You have to be patient and quiet, and you must support her, even if she surprises you by trying to manipulate everything for her own benefit.
Wife: Honey, I want to eat something.
Husband: What's that, sweetheart? We can have it delivered here.
Wife: I wish to eat at that restaurant we went to on the day we got married.
Husband: Yeah, but it's far away from here and previously you complained that you get tired from being in the car, especially for long distances.
Wife: No, no. If we go to that restaurant, I won't feel tired.
Husband: OK honey, we'll go this weekend.
Wife: No, I want to go today, NOW – otherwise, the baby will be born with a birthmark! as I crave eating in that restaurant.
Husband: Sweetheart, I understand that pregnant women crave for certain kinds of food, not certain kinds of restaurant!
Wife: Have you ever been pregnant? How would you know about cravings? This is my desire.
Of course, these arguments end in one direction only, the pregnant wife's direction; and the husband has to admit that he will lose his case to his wife, who represents the half of society, whom we call weak!
Part 2:  Watch Out, She's Moody!
Part 3:  What's in a Name?
***
Yasser Aboudouma is an Egyptian-Canadian who lives between Cairo and Ontario. He holds a B.Sc. in engineering and a diploma in project management. He is interested in issues of social and cultural differences.
Long or Short Engagement? – Thoughts of Young Muslims
Long or Short Engagement?
By Safiyyah Surtee for IslamOnline
It is time to get married. You have completed your studies, landed a good job and now you are yearning for love and companionship. Your family has introduced you to a lovely person, who you think you might be compatible with. A few chaperoned meetings and intense conversations later, and you both agree you want to spend the rest of your lives together. So, just how long should you wait before the wedding?
What Is an Engagement?
Before delving into whether a short or long engagement is preferable, let me define what an engagement is, in the context of Muslim societies. According to the people I interviewed, there seems to be three broad definitions.
One is that the engagement period is a time, for the couple who intend to get married, to get to know each other better and for their families to get acquainted, in a healthy environment, free from the threat of temptation.
Another is that an engagement is simply the time before the wedding, when arrangements and preparations are being made, but it does not involve any physical contact between the bride and groom.
Third, is when the couple is already legally married, but have not yet started living together because of various factors like achieving financial independence, completing their education, or simply taking the time to court, before moving in with each other.
I asked some people about the appropriate length of an engagement.
Thoughts of Young Muslims!
Amina, a soon-to-be-married student in Grahamstown, South Africa:
We have made a bigger deal about getting to know people than it really is. I am not saying that with just one conversation you will know, but I definitely disagree with the idea that it takes two people more than three months to get to know each other. With regards to the engagement period – as it stands in society – I think people should be more realistic and have a shorter engagement period. The Prophet (peace and blessings be upon him) encouraged us to not delay marriage!
Tasneem, a British divorcee from Dubai, U.A.E.:
It is difficult to say which is better – a short or long engagement – as it depends on the couple, but personally, I think anything longer than 6 months is pushing it. Wedding preparation time is highly stressful anyway so the more drawn out it is, the more stress and probably more issues and problems will arise with your fiancé. Engagements that are too short though, do not give enough time for the couple to get to know each other enough. So I think 4-6 months is enough – not too short, like 1 month, and not too long as in years!
Aasiya, single, from Johannesburg, South Africa:
An engagement means absolutely nothing to me; it is a physical representation of your intention to someone; although I must be honest, I do not believe in engagements personally. This is because how I see it, you should state your intention and follow through. But if we must then I would say that long engagements create an opportunity for temptation. I think a year at most.
Farzana, married, from Doha, Qatar:
I think that it is up to the couple. Some people need more time to build relationships and others do not. I liked having the time to get to know my husband pretty well; you get to know each other without the constraints that come with learning to deal with a new life. Let's face it, we do change as we age depending what we go through in life, and I like knowing that he knew me as a whimsical girl who was a whole lot more free-spirited than I am today – so yes, a long engagement worked for me.
Mohammed Ziyad, married, from Cape Town, South Africa:
Although engagements are necessary at times, it should not allow the couple to go out alone, as they are not yet married. I think that this period can be used to get to know each other or allow time for the family to prepare for the wedding. In my case, I proposed to my wife, 3 months before marrying her; therefore, I favor the short engagement-.
Rahmat, single, from Johannesburg, South Africa:
I do not agree with the term 'engagement'. I think it is used too loosely nowadays, but if I had to give an answer I would say that it should be kept to a short period of time. As a Shi'ah, we have a different kind of engagement, which allows the couple to get to know each other legally, but with restrictions of course.
Expert Point of View
Shameema, a youth guidance counsellor from Australia, who works within the Muslim communities, said:
To me an engagement is the period where the couple can get to know each other better, and I believe that it should be a short period, a couple of months at most before marriage. I think the families from both sides need to help facilitate this process by inviting the other family over and allowing the two young people to see each other in different situations.
She added:
At the end of the day, families will always have the greatest influence on the way young people view and behave in their marriages. In Perth we only have about 5 registered Imams who can perform the wedding ceremony that are recognized by the government. I think that before anyone is allowed to be married by the Imams, they need to complete a marriage course. This should be done during the engagement period, so the duration of the engagement should last as long as it takes the couple to complete the course.
It seems quite heavy-handed, but I only see benefits for the two people planning to spend their lives together. At the moment we are looking at what courses are available and also how we can come up with something ourselves taking information from what is available,
She added:
I want to get together with a psychologist, a sheikh and a few other community representatives who have experience in marriage counseling, and get them to write up a course. It should involve separate workshops for the bride and groom as well as workshops that are done together. I believe that in part of the workshop, the Imam should encourage the families to get to know each other, and get to know the son or daughter-in-law. The workshop should include things like finance and budgeting as well, to teach the everyday life skills that one needs for marriage.
Personal Experience
From my own experience, I found that a short engagement of just 5 months was sufficient time for my husband and I to get to know each other well enough and prepare ourselves for marriage. Here in South Africa, the Islamic Care-line offers a course similar to the one spoken of above, which I believe is a very effective way to spend the engagement period.
Muslim youth living in the West face different challenges than those living in Muslim majority nations. In the West, the couple may first have to deal with financial issues, or as reverts, they may have no support from their families, which will affect the length of their engagement. Youth living in Muslim countries also face predicaments, where in some conservative societies, it is difficult to meet, let alone get to know, the person they are going to marry.
In the light of the Quran and Sunnah, it preferable not to delay marriage, but of course we have to take the individual circumstances of the couple into account. In some cases, they may need to have a longer engagement, so that they can complete their studies, or find a home and in other cases, it may have to be very short. As long as the marriage is not delayed for reasons that are not pressing, like saving for an extravagant wedding or dating, whether they have a long or short engagement is up to them, their families and what is culturally acceptable.
*****
Safiyyah Surtee is a freelance writer currently living in Dubai. She studiesArabic and Islamic Studies. She is involved in many social projects in South Africa and the U.A.E. She also manages her own blog.
Can a Muslim Woman Initiate a Marriage Proposal?
There has been some discussion on our sister site IslamicAnswers.com about whether a Muslim woman is allowed to approach a man with a marriage proposal. One sister in particular has been pushing the idea that it is shameful or improper, so I want to correct this misconception.
If a Muslim woman comes to know of a man who has good character and deen and would make a good husband, there is absolutely nothing wrong with approaching him in an honorable way with a marriage proposal.
Some ways that she could do this would be to ask her parents to approach his parents; or to send a message through someone who knows him (for example his sister, aunt, cousin, etc) that she is interested, in order to learn if he also might be interested. She can also approach him directly and raise the subject, as long as she follows Islamic rules of etiquette (meeting in public, having a chaperone, no flirtatious or sexual speech, lowering the gaze, etc).
This may be seen as improper or brazen in some cultures. But that is a cultural attitude, not an Islamic one.
Let us look to the Prophet Muhammad (pbuh) as our example, since the Quran says, "There has certainly been for you in the Messenger of Allah an excellent pattern for anyone whose hope is in Allah and the Last Day and [who] remembers Allah often." (33:21)
First of all, he accepted a proposal from a woman, Khadijah (RA), who became his wife. It's true that he had not yet been appointed as a Prophet at that time nor was the Quran revealed; however, he was protected by Allah from sin from the time of his birth. Allah would never have permitted him to accept a proposal from a woman if doing so was in any way shameful or improper.
Consider this incident, narrated in Al-Bukhari, Volume 7, Book 62, Number 54:
Narrated Sahl bin Sad:
A woman presented herself to the Prophet (for marriage). A man said to him, "O Allah's Apostle! (If you are not in need of her) marry her to me." The Prophet said, "What have you got?" The man said, "I have nothing." The Prophet said (to him), "Go and search for something) even if it were an iron ring." The man went and returned saying, "No, I have not found anything, not even an iron ring; but this is my (Izar) waist sheet, and half of it is for her." He had no Rida' (upper garment). The Prophet said, "What will she do with your waist sheet? If you wear it, she will have nothing over her; and if she wears it, you will have nothing over you." So the man sat down and when he had sat a long time, he got up (to leave). When the Prophet saw him (leaving), he called him back, or the man was called (for him), and he said to the man, "How much of the Quran do you know (by heart)?" The man replied I know such Sura and such Sura (by heart)," naming the Suras The Prophet said, "I have married her to you for what you know of the Quran."
As we can see, a woman approached the Prophet (pbuh) for marriage and he did not disapprove of that or criticize her. He personally did not wish to marry her, so he matched her with someone else and married them to each other.
Furthermore, a general rule in Islamic fiqh is that all things are halal unless they are specifically prohibited by Quran or Sunnah. And there is nothing in Quran or Sunnah that would suggest that it is prohibited for a woman to initiate a marriage proposal. And Allah knows best.
Ronnie Hassan of understanding-islam.com has answered this question as follows:
Complications may enter the picture due to the cultural foundations and not Islamic ones… (however), there is absolutely no prohibition in Islam for a woman to propose marriage to a man. There are no moral or ethical limitations from the Islamic perspective. You will find reassurance in the fact the Khadijah, the Prophet's wife, is reported to have proposed marriage to him and he accepted. Obviously, our best role model is the Prophet and in this we can find a most beautiful example.
It is perfectly fine for you to approach the young man in a most honorable way and let him know your intentions by hinting or being flat out about it, depending upon the noble custom in your society. This is not prohibited by Islam.
Mufti Muhammad ibn Adam al-Kawthari says about this issue:
Islamically, marriage negotiations can be initiated or marriage can be proposed by either of the two parties. Similarly, there is nothing wrong with a daughter (or son) suggesting a suitable and righteous person to the parents provided it is done with decorum and observance of Islamic guidelines.
Unfortunately, however, there remains a stigma within certain Muslim cultures against a woman's family proposing or initiating marriage talks. It is likewise considered rude and offensive for the daughter to suggest a suitable man to her parents which, in some cases, is automatically deemed to mean that she is involved in an illicit relationship with him. If a girl respectfully offers herself to a suitable man for marriage, it is considered a crime! All these culturally-driven notions and customs are not endorsed by the teachings of Islam.
Imam al-Bukhari (Allah have mercy on him) has a chapter in his Sahih collection titled: "A man offering his daughter or sister to the people of good" in which he establishes that marriage can be proposed by the woman's family, and that there is no shame or indecency in doing so. He records the following Hadith:
Abdullah ibn Umar (Allah be pleased with him) relates that Umar ibn al-Khattab (Allah be pleased with him), when [his daughter] Hafsa bint Umar (Allah be pleased with her) became a widow upon the death of Khunays ibn Hudhafa al-Sahmi (Allah be pleased with him) – who was one of the Companions of the Messenger of Allah (Allah bless him and grant him peace) and died in Madina – Umar ibn al-Khattab said, "I went to Uthman ibn Affan (Allah be pleased with him) and offered Hafsa to him [for marriage]." He said, "I will think about it." He met me after a few days and said, "It seems to me that I should not marry at this time." Umar said, "Then I met Abu Bakr al-Siddiq (Allah be pleased with him) and said, "If you wish, I can marry you to Hafsa bint Umar." Abu Bakr remained silent and did not give me any reply at all. That was more painful for me than [what I felt with the reply of] Uthman. Some days later, the Messenger of Allah (Allah bless him and grant him peace) proposed for her and I married her off to him. Abu Bakr met me and said, "Perhaps you were upset with me when you offered Hafsa to me and I did not reply to you at all?" I said, "Yes." He said, "I was only prevented from replying to you [in the positive] in regards to what you offered me due to the fact that I knew the Messenger of Allah (Allah bless him and grant him peace) had considered her and I am not the one who would reveal the secret of the Messenger of Allah (Allah bless him and grant him peace). Had the Messenger of Allah (Allah bless him and grant him peace) left her, I would have accepted her." (Sahih al-Bukhari, no: 4830)
In the above narration, Sayyiduna Umar ibn al-Khattab (Allah be pleased with him) offered his daughter, Hafsa (Allah be pleased with her), not only to one but two individuals: Sayyiduna Uthman and Sayyiduna Abu Bakr al-Siddiq (Allah be pleased with them), with the latter already being married. As such, there is nothing wrong with a woman's guardian (wali) proposing marriage on her behalf to a righteous and suitable man.
Similarly, when the Prophet of Allah, Sayyiduna Shu'ayb (peace be upon him) observed the beautiful character of Sayyiduna Musa (peace be upon him) and his praiseworthy attributes such as trustworthiness, he proposed marriage to him for one of his daughters. Allah Most High says:
"And when he [Musa, peace be upon him] arrived at the waters of Madyan, he found a large number of people watering [their animals] and found, aloof from them, two women withholding their animals. He said, "What is the matter with you?" They replied, "We cannot water [our animals] until these shepherds take [their animals] back after watering them, and our father is a very old man." So he watered [their animals] for them, then turned to a shade and said, "My Lord, I am in need of whatever good you send down to me." Then one of the two women came to him, walking bashfully. She said, "My father is calling you, so that he may give you a reward for watering our animals." So when he [Musa, peace be upon him] came to him [the father of the women, i.e. Shu'ayb, peace be upon him] and narrated to him the whole story, the latter said, "Do not fear; you have escaped from the wrongdoing people." One of the two women said, "Dear father, hire him; the best man you can hire is someone who is strong and trustworthy." He [the father] said [to Musa], "I wish to marry one of these two daughters of mine to you on condition that you act as my employee for eight years. Then if you complete ten [years], it will be of your own accord. And I do not want to put you in any trouble; you will find me, God-willing, one of the righteous." (Qur'an: 28:23-27)
Furthermore, Sahl ibn Sa'd (Allah be pleased with him) relates that a woman came to the Messenger of Allah (Allah bless him and grant him peace) and offered herself to him [for marriage]. He said, "I do not have any need for women right now." A man said, "O Messenger of Allah, marry her to me!" He asked, "Do you have anything [to give as dowry]?" He replied, "I do not have anything." The Messenger of Allah (Allah bless him and grant him peace) said, "Give something to her, even if only an iron ring." He said, "I do not have anything." So the Messenger of Allah (Allah bless him and grant him peace) asked, "Do you know any portion of the Qur'an?" He said, "Such-and-such." He said, "I have married her to you for what you know of the Qur'an." (Sahih al-Bukhari, no: 5141)
Sayyiduna Thabit al-Bunani (Allah be pleased with him) relates that I was in the company of Anas (Allah be pleased with him) while his daughter was with him. Anas said, "A woman came to the Messenger of Allah (Allah bless him and grant him peace) offering herself to him [in marriage] and said, "O Messenger of Allah, do you have any need of me?" [Upon hearing this], the daughter of Anas said, "How immodest is she! Shame! Shame!" Anas said, "She is better than you! She desired the Messenger of Allah (Allah bless him and grant him peace) and so offered herself to him." (Sahih al-Bukhari, no: 4828)
These two Hadiths clearly establish the permissibility of a woman proposing marriage to a man. Indeed, the females offered themselves to the best of creation (Allah bless him & give him peace); however, it is not specific with him (Allah bless him & give him peace). It is for this reason that Imam al-Bukhari (Allah have mercy on him) chose to name the chapter in which he records these Hadiths: "A woman offering herself to a righteous man" signifying that a woman may propose marriage to any righteous and suitable man.
Imam al-Hafidh Ibn Hajar al-Asqalani (Allah have mercy on him) states in his commentary, Fath al-Bari:
"These two Hadiths indicate the permissibility of a woman offering herself to a [righteous] man for marriage and informing him of her desire to marry him, and there is no disgrace in doing so." (Fath al-Bari, 9/219)
As such, in conclusion, it is perfectly acceptable for a woman's family to propose marriage. Likewise, it is not indecent or disgraceful for a woman to desire a man for his righteousness, piety and good character, and thus propose marriage to him as long as it is done through the proper channels and without violating any rules of Shari'ah.
And Allah knows best
Muhammad ibn Adam
Darul Iftaa
Leicester , UK
When is a Wali Required for Marriage in Islam?
What is a Wali?
A Wali is defined as a Protector, Guardian, Supporter, Helper, Friend etc. [plural 'Auliyâ] see 33:17
The wali is the represention/mediator/guardian for women seeking marriage.
Who Needs a Wali for Marriage?
Men do not need a wali.
Women who have previously had marital relations with a man, can represent themselves and do not have to have a wali for seeking the husband, but they WILL need a wali for the actual marriage contract, i.e. Regardless,
she still must not be alone with a non-mahram man, and she MAY of course, and is encouraged to, have a wali be involved to whatever level she is comfortable with. All of this is for her protection, so that she may be protected from inquiries by inappropriate men and possibly "fall in love" and regret it later. This way, the men's character is first screened for her, still leaving her with the ultimate decision.
Note that it may be argued that new reverts to Islam are as innocent as a virgin (since all sins are forgiven upon embracing Islam) and is recommended for new muslimahs have a wali for seeking marriage.
The Prophet (sallallahu aleihi wa sallam) said: "A guardian has no concern with a woman previously married and has no husband, and an orphan girl (i.e. virgin) must be consulted, her silence being her
acceptance."

[Sunan of Abu Dawud 2095, Narrated Abdullah ibn Abbas]

Malik bin Anas told us from 'Abdallah bin yazid- freed slave of al-aswad bin sufyan- from Abu Salma bin AbdalRahman from Fatimah, daughter of Qays who said,: Her husband divorced her and the Apostle of Allah ordered her to fullfil the 'Iddah in the house of Ibn Umm Maktum before she could lawfully remarry, and told her to let him know when she had become lawful for remarriage. When the time had come, she told him that Mu'awiyah bin Abu Sufyan and Abu Jahm had proposed to her…….
Umm Salamah, r.a., a widowed woman, was proposed in marriage by Abu Bakr, and refused. Then she was proposed to by Umar and she refused.  Then she was proposed to by Prophet Muhammad saaws and accepted.


[source: The Alim for Windows release 4.51, Biography of Umm Salamah]
In all cases, the woman must consent to the marriage or the marriage can be ruled invalid.  Virgins need not speak up to declare that they want a marriage; simply not speaking out against the marriage (her silence) is
sufficient consent for a virgin.
Malik related to me from Abdullah ibn al-Fadl from Nafi ibn Jubayr ibn Mutim from Abdullah ibn Abbas that the Messenger of Allah, SAAWS, said, "A woman who has been previously married is more entitled
to her person than her guardian, and a virgin must be asked for her consent for herself, and her consent is her silence "


[Malik's Muwatta, Book 28, Number 28.2.4]

The Prophet saaws said, "A matron should not be given in marriage except after consulting her; and a virgin should not be given in marriage except after her permission." The people asked, "O Allah's Apostle!
How can we know her permission?" He said, "Her silence (indicates her permission)." [Sahih Al-Bukhari
7.67]
Narrated Khansa bint Khidam Al Ansariya "…that her father gave her in marriage when she was a matron and she disliked that marriage. So she went to Allah's Apostle and he declared that marriage invalid."


[Sahih Al-Bukhari 7.69]

"…

Her guardian should not make a promise (to somebody to get her married to him) without her knowledge…

"


[Sahih Al-Bukhari 7.56]
Women who are virgins must have a wali when getting married.
"No marriage is valid without a wali." [related by Ahmed and others and deemed sound by Ahmed, Ibn Hajar and others]
The Prophet SAAWS said: "

There is no marriage without the permission of a guardian.

"

[Sunan of Abu Dawood 2080, Narrated Abu Musa]

"When a woman marries without the permission of her wali, then her marriage is not valid, not valid, not valid."

[Related by Ahmad, Tirmidhi and others. Tirmidhi said, this is a hasan Hadith]
If the woman does not have a male mahram relative, the Imam closest to her locality, of the same faith as her, becomes her wali.
"If they dispute, then the sultan (man in authority) is the wali of those who have no wali."

[Dawud 2078, Narrated 'Aisha , also related by Tirmidhi and others. Tirmidhi said, this is a hasan Hadith. Ibn Majah and Imam Ahmad, Hadith number 1880; also in Salih al-Jaami', hadeeth number 7556.) Shaykh Al Albaanee declares it authentic in Saheeh Al Jaami' vol. 2, no. 7556

.

]

"The believers, men and women, are awilyaa'a (allies and protectors) of one another."  [The Noble Qur'an
9:71]
"…And never will Allâh grant to the disbelievers a way (to triumph) over the believers. [The Noble Qur'an
4:141]
"O you who believe! Take not for Auliyâ' (protectors or helpers or friends) disbelievers instead of believers. Do you wish to offer Allâh a manifest proof against yourselves?"


[The Noble Qur'an 4:144]

"And those who disbelieve are allies to one another…"


[The Noble Qur'an 8:73]
If the wali is non-mahram, such as is the case with many new reverts to Islam, she should avoid ever being alone with him.
"A man is never alone with a woman except that shaitan

will be the third."

(Related by Ahmed and Tirmidhi)
Source: Muttaqun.com
No intimacy for 4 months, are we divorced?
Question:
I have been married for 6 months, but for the last 3 months we haven't had physical contact. His excuse is that we have been fighting, so he doesn't feel like it. Have heard by many people that the marriage becomes invalid if the couple doesn't engage in intimacy for 4 months time.
Answer:
Assalamu alaykum
In the name of Allah the Inspirer of Truth.
Although it is a right of the wife to have relations at least once in four months, it does not technically invalidate the marriage if the husband does not fulfill this. Having said this, it is definitely a sin to deprive the wife of this right without any valid reason or permission. "Because we fight" seems to be a psychological reason for losing interest.
You have to attempt to reconcile your differences and work out your differences together with compassion and compromise. If the reason for loss of interest is quarreling then those quarrels have to stop. This seems to be the way to resolve your situation. Always act with kindness, patience, love and affection towards him. This way, he will, insha Allah change his perspective about you and rekindle the flame of love.
If there are also other reasons which you cannot work out together, then it would best for you two to see a counseling scholar in this regard. There is very limited information as to the specifics of this question to suggest any other recourse in this response.
And Allah knows best.
Wassalam
Abdurrahman Ibn Yusuf, SunniPath.com
Top 5 Complaints of Wives and What to Do About Them
Top 5 Complaints of Wives and What to Do About Them
By Haleh Banani, M.A. Clinical Psychology
Reprinted from MuslimMatters.org
Coming soon: Win His Heart: A Psychological Approach for WOMEN
Every man dreams of having a woman who can please him on many different levels. One that fulfills his desires, stimulates him intellectually and soars with him to new spiritual heights. A unique woman that will not only be a source of comfort, but also a source of strength.
It is very easy to dream and have expectations of your spouse but what do YOU have to do in order to attract a woman with these qualities and keep her giving at that level?
Generally, men are quite puzzled by women. They are not sure what to do or say to please the women in their lives. Whatever they do seems to get them in trouble. Since most men have this confusion, they simply stop trying.
This lack of effort from men creates frustration and discontentment. Most women feel extremely dissatisfied in their marriages. Within my practice as a marriage therapist, I have heard from dozens of women who have a long list of complaints about their husbands. These complaints lead to deep rooted unhappiness and many times divorce.
Top 5 complaints of women about their husbands
Communication
Financial issues
Sex
Lack of compassion
Too strict/too jealous
Almost every couple I have ever done marriage counseling with has complained about problems in communication. Most of the time women complain that their husband does not share his feelings, he shuts off, he doesn't listen and he doesn't know how to ask for what he wants in a diplomatic way.
Lack of communication or miscommunication is the bulk of the problem in most marriages. If people don't know how to get their message across, how to listen or how to resolve conflicts they will face perpetual problems in their lives. Here are some suggestions in effective communication skills:
Make I statements…. never start the sentence with YOU. Say: "I feel neglected when you don't prepare dinner" rather than saying, "You never prepare dinner."
Always keep your voice down and refrain from name calling.
Seek first to understand then to be understood. Tough one, but very effective!
Share your thoughts and feelings with your spouse to make her feel a part of your world. Don't shut her out or else she will feel extremely insecure and suspicious.
Don't give one word answers – try to elaborate and fulfill her need to know. She shows you she cares by asking many questions.
Listen attentively – that means no checking emails while she talks and no watching T.V. Simply look in her eyes, listen and acknowledge her. Women loved to be looked at!
Give your wife compliments on everything you like about her – she needs constant reassurance on her beauty, on your love for her, on her cooking. Say it again and again with a smile. It will never get old!
Validate her feelings – say things to make her feel understood. Tell her you understand that she is sad, that she has a right to feel hurt or neglected. The worst thing you could ever do is tell a woman she is wrong to feel a certain way.
Ask for things with gentleness and kindness without being harsh or demanding. If a woman feels like she is being told what to do and how to do it – she will resist. If she is asked kindly and made to feel special she will rush to do it to in order to fulfill her need to please others.
Never compare her to anyone to get her to change. This is detrimental to the relationship, brings about hostility and a feeling of inadequacy. If you want her to improve in any given area compliment what she is already doing right.
Financial Issues
Each person is brought up with different views and experiences with money. Some are brought up in affluent families that spend frivolously while others come from more modest backgrounds that are trained to save. When individuals with such striking differences unite there is bound to be tension and arguments. That is why money is one of the biggest reasons people fight and even get a divorce. Here are some suggestions for peacefully dealing with money issues.
Learn about each other's view of money. Become acquainted with their experience with money in order to better understand each other.
Discuss openly issues or concerns you have about your financial situations.
Avoid getting into debt at all cost. If you can't afford it – just don't buy it. Simple as that.
Set a budget together and try your best to stick to it. If you slip, and go over the budget, quickly get back on track.
Increase your knowledge about resolving financial problems by reading books, attending seminars or listening to CDs.
Be honest and never hide or deceive your partner about financial issues because it could really damage the trust.
Try to compromise and come up with a win/win solution when you disagree.
Agree to disagree.
Consider the pros and cons of having a two house income or even having a part time job that can help alleviate the financial burden.
Save….Save….Save! You never know what the future holds so always be prepared.
Sex
The area of a couple's life which offers the most potential for embarrassment, hurt, and rejection is sex. The majority of couples I have done therapy with have had issues in this area of their life. It is such an essential part of the marriage and yet very few couples ever talk about it. The goal of sex is to be closer, to have more fun, to feel satisfied, and to feel valued and accepted in this very tender area of your marriage. "Your wives are a tilth unto you; so go to your tilth when or how you will." [Qur'an 2:223] Here are some suggestions to having a more satisfying sex life.
Fulfill your wife emotionally so that she can be receptive to you. Women shut off sexually if they don't feel loved, appreciated or desired.
Set the mood…light candles, make dinner, give a massage, get flowers or anything that makes her feel special and loved.
Prolong foreplay. Make sure she is ready.
Take your time and don't rush her.
Share your likes and dislikes in a gentle, positive way making her feel safe. Instead of saying you never do such and such say: I loved it when you…..or I would love it if you would….
Never criticize or make fun when getting intimate.
Always accentuate the positive – make your suggestions in a way that you are making a good thing even better. Even if you are dissatisfied don't let her feel it.
When receiving your partner's request, try not to see it as criticism. Have the attitude of a professional chef that is not insulted if a customer doesn't crave a particular meal, but makes accommodations that will satisfy the customer's palate.
Make her feel attractive and desired. The more you give her compliments, the more confident she will feel which will help her to relax and enjoy.
Make sure you try to fulfill her first in order to create a strong, positive association to intimacy.
Lack of Compassion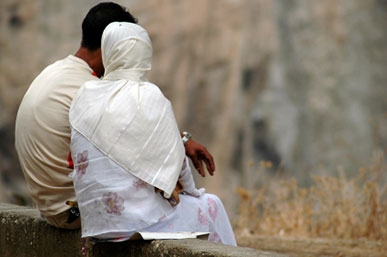 Men have different ways of expressing their feelings and emotions. Some express their love and concern for the family by simply working hard and providing the very best. They feel that the time they spend at work is an emotional deposit because they are putting so much effort so that their family can be comfortable. Unfortunately, this form of expression of love is generally not sufficient for most women. Women expect the men in their lives to connect with them on an emotional level, provide support and have fun together. "The best of you are those who are the best to their wives." (at-Tirmidhi)
Here are some suggestions in showing compassion so that you can connect with your wife on an emotional level.
Tell your wife you love her daily – don't make it just a once a year event.
Never enter or leave the house without a proper greeting. Let her feel that you are happy to see her and that you will miss her when you leave.
Make daily deposits in your emotional bank account with your wife by being understanding, forgiving, cooperative and by using words of endearment.
Call your wife or send sweet messages during the day. "…And live with them in kindness…" (Nisaa 4:19)
Eat at least one meal a day together and spend time sharing what you have done.
Give lots of compliments.
If she is feeling sad or angry, show her love and compassion by hugging her. If she says she doesn't want to talk about it, she doesn't mean it… you just have to insist sweetly.
Learn to apologize. Even if you were not wrong apologize for making her feel bad. Win her heart not the argument! Amazing what two little words (I'm sorry) can do.
Get her gifts and flowers so she feels that you thought of her. It doesn't have to be something expensive – just a gesture that you were thinking of her. "And do good. Truly, Allah loves the good-doers." (Baqara 2:195)
Be supportive and helpful with the kids. Offer to take care of the kids while she does something (anything) for herself. If she has the chance to recharge she will be a much better wife and a nicer mom!
Too Strict or Too Jealous
It is understandable that a man feels responsible for his wife and wants to make sure that she does not exceed beyond the boundaries that Allah has established. "Everyone of you is a guardian and responsible for those in his charge; the man, in his home, is a guardian and responsible for his household." (Bukhari and Muslim). It takes diplomacy and gentleness to set guidelines without coming across as too strict and unreasonable. It is always a little flattering when a husband becomes jealous, but when it becomes excessive it is unhealthy and a source of stress for women. There needs to be mutual trust and respect in order to live in harmony and peace. Here are some suggestions for maintaining boundaries without being too strict or too jealous.
Be a spouse to your wife not a father. Don't treat her like a little girl with a long list of rules. If you treat her like a child she will act like one.
Give her space to make decisions – if you hold her too tight she will feel suffocated.
Respect her and treat her like a partner not an employee.
Trust her – don't interrogate her for every little thing. Gently ask questions.
Be reasonable in setting boundaries – if you are too strict she will either resent you or not abide by them when you are not around.
Don't assume anything – check your assumptions and verify before accusing her of anything.
Be kind and understanding so that your wife will happily try to please you. Don't be a harsh dictator that needs to be overthrown.
If she dresses or acts inappropriately just talk to her, educate her and help her to understand. Make her feel that you are concerned about her. Never be forceful.
Try to make excuses when she falls short.
Be playful with your spouse if you feel some jealousy. Make her feel how much you are attracted to her, how appealing she is to you that you simply don't want to share her. This will flatter her and make it more likely that she will be more careful.
When you become more sensitive to the needs of your wife and you put effort in supporting her and connecting with her you will reap the rewards of having a more content wife. A happier wife means a happier home which means more peace and tranquility for you. By becoming more aware of these common complaints and implementing the suggestions you will definitely score big with the woman in your life!
Dating in Islam Begins With Marriage
By Jennifer (Sumayah) Fayed of Intuitive Muslimah
I listened to a great lecture last night that was entitled "Islam & Dating" now before you jump the gun…It wasn't about Muslims dating out of wedlock, but the contrary how once we are married how imperative it is to continue dating your husband or wife.
Although it was about a thirty minute lecture it had a strong message. I thought to myself, Abdul Malik (the lecturer) is really on to something and is touching on an important issue that most of us who are married seem to forget so easily.
Of course, there are those newlywed moments of, "I love you so much honey that I would live anywhere with you…even under a bridge".
Or the husband saying, "Sweetheart buy whatever you like in the store price isn't an object" or him bringing flowers everytime he comes home.
But something happens:  reality sets in! The kids come, the bills pile up, everyone is tired, and soon enough you realize that the couple that showed so much attention and considertation to one another in the beginning now don't even face each other while they sleep.
Does this sound familiar to anyone?
Ok, so whats the solution?
The solution is easy. We have to remember to rekindle the flames that started the marriage in the first place. How, you ask? Ok, let's face it most of us don't have that money tree growing in the yard anymore. If anything, it has dried up like a prune and hasn't bloomed a leaf of money since you last recall. There are however other ways. How about that quality time that both of you spent together just talking about things other than the kids, bills, work, and family. Focus on each other.
Being a wife doesn't only consist of feeding the husband, cleaning the house, and attending to the children. It's more than that… let's remember Khadijah the Prophet's (pbuh) first wife, she was his companion. She gave him reassurance when he most needed it, showed him compassion, shared her opinions, and supported him. Some of us have been taught that a wife is one who makes lavish dishes for her husband, who dresses up to appeal to him, and has her home organized. I'm not saying these things arent' important. What I am saying is that a marriage and being a companion is more than superficial beauty and enticing of the flesh. Now, I'm sure the husbands who read this are probably like "Oh yea she's right on!!!" LOL….guys you aren't off the hook.
As husbands, you have to remember that marriage isn't just being the maintainer and provider of the the woman and the family. It also goes deeper than that. Women are complex creatures just like men are and we also need attention, affection, and this doesn't just mean what happens inside the bed sheets. Let's get real here, wives need you to be more involved in the home, and that one-on-one conversation. Instead of watching the playoffs, turn off the tube and sit with your wife and talk about how she is feeling and indulge in some beneficial convos… Read some qur'an together, discuss hadiths, rekindle what sparked that flame when you first met her. You didn't just marry her because of her beauty (at least I hope not). You married because you wanted a life partner. As women, we are auditory creatures mostly who need to hear things to know we are appreciated and loved. So dear brother, remember that when spending time with your wife.
Dating in Islam begins with marriage. We have to show one another value, love, and respect. And we do this with one-on-one communication, becoming best friends, and remembering how to keep those ardent flames from extinguishing.
In Abdul Malik's lecture he said something that stood out for me and that was " Men are creatures of sight, and women are creatures of sound".
When both men and woman form the bond of marriage they have major responsibilities to each other and to Allah. Marriage is full of hardships but is also very beautiful. We were created to be companions in this life and inshallah the hereafter.
To the husbands, realize that your wife is a delicate being that needs physical, and emotional interaction. We need to hear that you love us and if possible follow those words with a kind gesture. And to the wives (me included) let us remember that yes, the way to a man's heart is to his stomach (at times), however we also need to learn patience, contentment, and encourage the husband in all the good he does for us and the family.
Marriage brings a mountain of responsiblities but with hardwork, dedication, optimism, communication, and mercy for one another; this rope that will develop strong knots along the way will bring endless bounties of blessings to us and to the ummah God willing.
Dating in Islam – Q&A
Dating in Islam –
Q & A
by Yasmin Mogahed
Reprinted from SuhaibWebb.com
Question:

Is dating allowed in Islam so that I can get to know someone for marriage? It's hard to get married and dating is normal in our society. Arranged marriages aren't realistic for us nowadays.
Answer:
As-salamu `alaykum brother,
Thank you for the honest question you asked regarding dating. There are a number of issues that you brought up. First, you have pointed out that you live in a society where dating is the norm. While I understand and sympathize with that struggle, it is important to make clear that just because something is the norm in one's society, does not justify participating in it. In the society that the Prophet (sal-Allahu alayhi wa-sallam)  lived, burying little girls alive was the norm. Of course, the principles of Islam prohibited such barbarism – regardless of what was widespread at the time.
In fact, the Prophet (sws)  has told us that those who follow the right path will always be 'different' or 'strange' to the mainstream. In one beautiful hadith, the Prophet (sws) says: "Islam began as something strange, and will revert to being strange as it began. So give glad tidings to the strangers." Then the people asked, "Who are they (the strangers), O Messenger of Allah?" He answered, "Those who are pious and righteous when the people have become evil." (Ahmad)
Secondly, you state the concern of getting to know someone for marriage. You explain that dating is needed since arranged marriages are not feasible. However, by saying this you imply that these are the only two routes to getting married. What you are forgetting is that there is a third option: the option taught to us by our beloved Prophet (sws). Let us examine each of the three options for meeting a marriage partner:
1) Dating
One option is dating. This option is prohibited for a number of reasons. First, the Prophet (sws) has taught us that it is haram for a non-mahram (unrelated) man and a woman to be alone together. This is called khilwa. He warns that if this happens, Shaytan (satan) will be present with them. The Prophet (sws) said: "Whenever a man is alone with a woman the Devil makes a third." (Sahih Bukhari) Now it is important to note that Allah never prohibits something unless it is harmful to us. Let us examine for a moment the harm in this.
First, most reports of sexual abuse are not committed by strangers. In fact, according to the U.S. Department of Justice, 68% of young girls raped knew their rapist either as a boyfriend, friend or casual acquaintance, and 60% of rapes of young women occur in their own home or a friend or relative's home – not in a dark alley. So, overwhelmingly, it is those people who you are out on a 'date' with that commit these crimes. Also, as dating has become more widespread in a society, so has unwanted pregnancy, as well as sexually transmitted diseases. By prohibiting khilwa, Allah, in His infinite wisdom, is protecting us.
Also, as you know even consensual extra-marital intercourse (zina) is a grave sin in Islam. But Allah did not just tell us not to commit zina. He says in the Qur'an: "Do not come close to zina for it is a shameful (deed) and an evil, opening the road (to other evils)." (Qur'an, 17:32). One does not leave their infant to play on a highway, but hope they will not get hit by a car. One important Islamic principle is: prevention before cure. You do not come close to fire, and then wonder why you got burned. Therefore, Allah has prohibited anything that may lead to zina, namely khilwa (being in seclusion). Now if just being in seclusion is prohibited, what can be said about physical contact and the whole institution of dating?
In support of dating, some argue that it is needed in order to find a spouse. The irony in this is that dating does not increase marital success. In fact, the United States is a culture where dating is the norm. However, 50% of first marriages, 67% of second and 74% of third marriages end in divorce, according to Jennifer Baker of the Forest Institute of Professional Psychology. And according to a study by the National Bureau of Economic Research, couples who lived together before marrying have nearly an 80 percent higher divorce rate than those who did not. So if dating is putting you at a higher risk of sexual abuse, sexually transmitted disease, and unwanted pregnancy, and it makes you no more likely to find a successful marriage partner – but in fact less likely – what logical person would chose this option, even if it were not prohibited by Islam?
2) Arranged Marriage
There is also the option of completely arranged marriages. While it is fine for parents or mutual friends to introduce two prospective partners, the Prophet (sws) has told us not to go into a marriage blindly. Once a man came to the Prophet (sws) and told him that he was going to get married. The Prophet (sws) asked if he had seen the woman. When the man said no, he said: "Go and look at her for it is more likely to engender love between the two of you." (Ahmad)
3) Islamic Courting
Islam provides the balanced solution to courting, which protects the individual and the society, but does not have people enter marriage blindly. If there is a woman you are considering for marriage, you should approach her mahram (male relative). From there, many avenues exist to get to know her better, without having to be in seclusion or engaging in physical contact. Talking to someone over the phone, through email or the internet, or in the company of a mahram, gives you a chance to find out more about them, without crossing the boundaries set by Allah in His infinite wisdom. The Prophet Muhammad (sws) said, "Whoever believes in Allah and the Last Day, let him not have a private audience with a woman without her mahram." (Ahmad)
This is the way designed by our Creator, who made everything in the universe, who knows what is hidden and what is open, who knows the future and the past, who knows us, better than we could ever know about ourselves. How could we ever think that a better system could exist than the one prescribed by our Maker and the master of the universe?
Wallahu `alam.
I pray that what I've said has been beneficial to you. Anything I said that was right, it is from Allah. Anything wrong, is from myself.
The End
That's the end of Yasmin's piece. I'd like to add a few comments of my own. Sister Yasmin's article is informative and of course correct in all it's statements of fact, but doesn't really offer practical alternatives for men and women getting to know each other. Yasmin says, "If there is a woman you are considering for marriage, you should approach her mahram. From there, many avenues exist to get to know her better, without having to be in seclusion or engaging in physical contact." Of course this is true, but how do you get to that point of choosing someone that you might be interested in for marriage? Just by seeing someone at work, school or a conference? That feels like taking an important step based on insufficient information.
I have three suggestions that would allow singles to meet in an Islamic manner, to get to know each other for marriage:
1. Internet matrimonial services. Of course we have online matrimonial services now – like Zawaj.com! That's a good place to start, and does not require breaking any Islamic rules. Young people can read one another's profiles, exchange a few anonymous messages through the matrimonial service's messaging system, then if they find each other interesting they can take it offline and contact each other's families.
2. Marriage events. I'm talking about organized marriage events where men and women can meet in a structured and supervised environment. This should be a more widely considered option. There are some organizations doing this already, but they tend to be held only occasionally in larger cities. Smaller cities rarely see such marriage events. I think local mosques should take the lead in organizing marriage events for the singles in their communities.
And every major Islamic conference should include such an event.
3. Imams as matchmakers. Maybe the Imam of each community (and his wife) should take it as one of the office's functions to maintain a database of single brothers and sisters, and make suggestions and introductions. I've read about an Imam in New York who does that quite successfully.
We seem to have these two extremes – either an arranged marriage between cousins, which is generally unhealthy and seems to end in misery more often than not, or a free-for-all where young people must fend and seek for themselves, and often fall into sin.
As a community we must develop modern alternatives that satisfy Islamic requirements and allow single Muslim men and women to meet.
Wael Abdelgawad
Zawaj.com Editor
Misyar marriage: definition and rulings
Source: Islam Q&A
Question:
Misyaar marriage was mentioned on your website. What is this marriage? Is it halaal or haram?
Answer:
Praise be to Allaah.
Firstly:
Misyaar marriage is where a man does a shar'i marriage contract with a woman, meeting the conditions of marriage, but the woman gives up some of her rights such as accommodation, maintenance or the husband's staying overnight with her.
The reasons that have led to the emergence of this kind of marriage are many, such as:
1.
Increase in the number of single women who are unable to get married, because young men are put off marriage due to the high cost of dowries and the costs of marriage, or because there is a high divorce rate. In such circumstances, some women will agree to be a second or third wife and to give up some of their rights.
2.
Some women need to stay in their family home, either because they are the only care-givers for family members, or because the woman has a handicap and her family do not want the husband to be burdened with something he cannot bear, and he stays in touch with her without having to put too great a burden on himself, or because she has children and cannot move with them to her husband's house, and other reasons.
3.
Some married men want to keep some women chaste because they need that, or because they need variety and halaal pleasure, without that affecting the first wife and her children.
4.
In some cases a husband may want to conceal his second marriage from his first wife, for fear of the consequences that may result and affect their relationship.
5.
The man travels often to a certain place and stays there for lengthy periods. Undoubtedly staying there with a wife is safer for him than not doing so.
These are the most prominent reasons for the emergence of this kind of marriage.
Secondly:
The scholars differed concerning the ruling on this type of marriage, and there are several opinions, ranging from the view that it is permissible, to the view that it is permitted but makrooh, or that it is not allowed. Here we should point out several things.
1.
None of the scholars have said that it is invalid or is not correct; rather they disallowed it because of the consequences that adversely affect the woman, as it is demeaning to her, and that affects the society as this marriage contract is taken advantage of by bad people, because a woman could claim that a boyfriend is a husband. It also affects the children whose upbringing will be affected by their father's absence.
2.
Some of those who said that it was permissible have retracted that view. Among the most prominent scholars who said that it was permissible were Shaykh 'Abd al-'Azeez ibn Baaz and Shaykh 'Abd al-'Azeez Aal al-Shaykh; and among the most prominent scholars who said that it was permissible and then retracted it was Shaykh al-'Uthaymeen; among the most prominent scholars who said that it is not allowed at all was Shaykh al-Albaani.
3.
Those who said that it is permissible did not say that a time limit should be set as in the case of mut'ah. And they did not say that it is permissible without a wali (guardian), because marriage without a wali is invalid. And they did not say that the marriage contract may be done without witnesses or without being announced, rather it is essential to do one of the two.
Thirdly:
Opinion of the scholars concerning this type of marriage:
1.
Shaykh Ibn Baaz (may Allaah have mercy on him) was asked about Misyaar marriage; this kind of marriage is where the man marries a second, third or fourth wife, and the wife is in a situation that compels her to stay with her parents or one of them in her own house, and the husband goes to her at various times depending on the circumstances of both. What is the Islamic ruling on this type of marriage?
He replied:
There is nothing wrong with that if the marriage contract fulfils all the conditions set out by sharee'ah, which is the presence of the wali and the consent of both partners, and the presence of two witnesses of good character to the drawing up of the contract, and both partners being free of any impediments, because of the general meaning of the words of the Prophet (peace and blessings of Allaah be upon him): "The conditions that are most deserving of being fulfilled are those by means of which intimacy becomes permissible for you" and "The Muslims are bound by their conditions." If the partners agree that the woman will stay with her family or that her share of the husband's time will be during the day and not during the night, or on certain days or certain nights, there is nothing wrong with that, so long as the marriage is announced and not hidden. End quote.
Fataawa 'Ulama' al-Balad al-Haraam (p. 450, 451) and Jareedah al-Jazeerah issue no. 8768, Monday 18 Jumaada al-Oola 1417 AH.
However, some students of the Shaykh said that he later retracted the view that it is permissible, but we could not find anything in writing to prove that.
2.
Shaykh 'Abd al-'Azeez Aal al-Shaykh (may Allaah preserve him) was asked:
There is a lot of talk about misyaar marriage being haraam or halaal. We would like a definitive statement about this matter from you, with a description of its conditions and obligations, if it is permissible.
He replied:
The conditions of marriage are that the two partners should be identified and give their consent, and there should be a wali (guardian) and two witnesses. If the conditions are met and the marriage is announced, and they do not agree to conceal it, either the husband, the wife or their guardians, and he offered a waleemah or wedding feast, then this marriage is valid, and you can call it whatever you want after that. End quote.
Jareedah al-Jazeerah, Friday 15 Rabee' al-Thaani 1422 AH, issue no. 10508.
3.
Shaykh al-Albaani was asked about Misyaar marriage and he disallowed it for two reasons:
(i)
That the purpose of marriage is repose as Allaah says (interpretation of the meaning): "And among His Signs is this, that He created for you wives from among yourselves, that you may find repose in them, and He has put between you affection and mercy. Verily, in that are indeed signs for a people who reflect" [al-Room 30:21]. But this is not achieved in this kind of marriage.
(ii)
It may be decreed that the husband has children with this woman, but because he is far away from her and rarely comes to her, that will be negatively reflected in his children's upbringing and attitude.
See: Ahkaam al-Ta'addud fi Daw' al-Kitaab wa'l-Sunnah (p. 28, 29).
4.
Shaykh Ibn 'Uthaymeen (may Allaah have mercy on him) used to say that it was permissible, then he stopped saying that because of the negative effects, as it was poorly applied by some wrongdoers.
Finally, what we think is:
That if Misyaar marriage fulfils the conditions of a valid marriage, namely the proposal and acceptance, the consent of the wali and witnesses or announcement of the marriage, then it is a valid marriage contract, and it is good for some categories of men and women whose circumstances call for this type of marriage. But this may be taken advantage of by some whose religious commitment is weak, hence this permissibility should not be described as general in application in a fatwa, rather the situation of each couple should be examined, and if this kind of marriage is good for them then it should be permitted, otherwise they should not be allowed to do it. That is to prevent marriage for the sake of mere pleasure whilst losing the other benefits of marriage, and to prevent the marriage of two people whose marriage we may be certain is likely to fail and in which the wife will be neglected, such as one who will be away from his wife for many months, and will leave her on her own in an apartment, watching TV and visiting chat rooms and going on the internet. How can such a weak woman spend her time? This is different from one who lives with her family or children and has enough religious commitment, obedience, chastity and modesty to help her be patient during her husband's absence.
And Allaah knows best.
Divorce While Pregnant?
Question:
My husband divorced me while I was pregnant. Then before I gave birth to my child he came back and said that we are not divorced since pregnant women can't be divorced. So I would like to know am I really divorced or not? My husband and I love each other very much and now we have a baby son. Please do reply to me as soon as possible.
Answer:
Praise be to Allaah.
Shaykh Ibn Baaz (may Allaah have mercy on him) was asked whether a woman may be divorced by talaaq when she is pregnant. He said:
This is an idea which is common among some people. Some of the people think that a pregnant woman cannot be divorced by talaaq. I do not know where they get this idea from, for it has no basis in the words of the scholars. Rather the view of all the scholars is that a pregnant woman can be divorced by talaaq. There is consensus on this point among the scholars, and there is no dispute. Talaaq according to the Sunnah means that a woman may be divorced in two cases:
1 – She may be divorced when she is pregnant; this is a Sunnah divorce and is not bid'ah.
2 – She should be taahir (pure, i.e., not menstruating) and her husband should not have touched her (i.e., had intercourse with her), i.e., she should have become taahir following menstruation or nifaas (post-natal bleeding) and before he has intercourse with her. Talaaq in this case is in accordance with the Sunnah.
Fataawa al-Talaaq by Shaykh Ibn Baaz, 1/45-46
So long as he took her back during the 'iddah, then she is still his wife, because the 'iddah of a woman who is pregnant ends when she gives birth, and her husband took her back before she gave birth. Allaah says (interpretation of the meaning):
"And for those who are pregnant (whether they are divorced or their husbands are dead), their 'Iddah (prescribed period) is until they lay down their burden."
[al-Talaaq 65:4]
This is the 'iddah of the pregnant woman whether she is divorced or widowed. The husband should count this as one talaaq. And Allaah knows best.
Source: Islam Q&A
Sheikh Muhammed Salih Al-Munajjid
Does a Long Separation Amount to Divorce?
Does Long Separation Break a Nikah in Islam?
Name of Mufti: Dr. Muzammil Siddiqi
Source: IslamOnline.net, August 3 2004
Question:
As-Salamu `alaykum. If a husband and wife fight each other and after that they do not talk for 3 to 4 years, does this affect their nikah (marriage)?
Answer:
Wa `alaykum As-Salamu wa Rahmatullahi wa Barakatuh.
In the Name of Allah, Most Gracious, Most Merciful.
All praise and thanks are due to Allah, and peace and blessings be upon His Messenger.
Dear sister in Islam, thank you for your question, which shows how concerned you are to abide by the Shari`ah in all details of your life. May Allah help us all lead a righteous life based on Islam!
First of all, it should be clear that marriage in Islam is a solemn contract for which the Shari`ah lays down rules and arrangements to guarantee its stability.
The spouses should avoid fighting or divorce as much as possible. If they have difficulties and problems they should be patient and forbearing. They have to try to work out their differences and seek help from their relatives, friends, or professional counselors.
In response to your question, Dr. Muzammil H. Siddiqi, former president of the Islamic Society of North America, states:
It is not right for husband and wife to break their relations for such a long time. If there are differences, then they should try to reconcile as soon as possible. The Prophet (peace and blessings be upon him) urged Muslims to reconcile their differences within three days. The one who begins the reconciliation receives the greater reward and blessings from Allah.
However a severance due to strained relationship does not affect the nikah, however long it lasts. They are still husband and wife. If the husband does not reconcile with his wife and remains severed from her, she has a right to file for divorce and take a legal divorce through the court.
But if a husband separates from his wife with an oath that he will not have conjugal relations with her, then he has only four months to reconcile. According to the Qur'an, this is called ila'. [In Shari`ah, ila' means that the husband swears that he will not have sexual intercourse with his wife, either for an unrestricted period or for more than four months.] Allah says, "Those who swear that they will not go into their wives, the waiting period is four months. Then if they go back, Allah is surely Forgiving, Merciful. If they resolve on a divorce, then Allah is surely hearing and knowing." (Al-Baqarah: 226-227). At the end of four months if he has not reconciled verbally or in action, then the wife has the right seek divorce through the court. And the judge can grant divorce to her.