Tag archive for 'Zawaj.com Humor Files'
Joke: Understanding Women, Understanding Men


Understanding Women:
A man was on a boat that capsized in the sea. Alhamdulillah the waves cast him up on a desert island. After months of loneliness, a beautiful colored bottle washed up on the beach. The man picked it up and caressed it, admiring its beauty, until a genie came out in a puff of smoke.
"Thank you for releasing me from my prison," the genie said. "I grant you any wish you like. I can't do magic, but I'm very strong and wise."
"Wonderful," the man said. "Build me a bridge back to my country so I can return home."
"Oh, come on," the genie said. "Do you have any idea what a massive engineering feat that would be? There's not enough steel or stone in the world for that. I'm just a simple genie. Wish for something realistic."
"Okay then," the man said. "I wish to understand the mind of a woman."
"Alright," said the genie, sighing. "Did you want a suspension bridge, cable bridge, or arch bridge?"

Understanding Men:
"IT'S A GUY THING"
Translated: "There is no rational thought or logic connected with it."
"CAN I HELP WITH DINNER?"
Translated: "Why isn't it already on the table?"
"UH HUH," "SURE, HONEY," OR "YES, DEAR"
Translated: Absolutely nothing. It's a conditioned response.
"IT WOULD TAKE TOO LONG TO EXPLAIN"
Translated: "I have no idea how it works."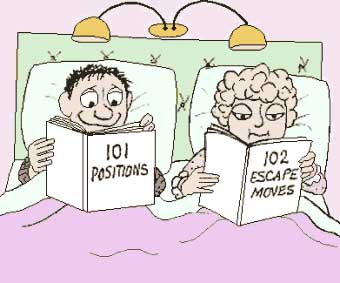 "I WAS LISTENING TO YOU. IT'S JUST THAT I HAVE THINGS ON MY MIND."
Translated: "That girl standing on the corner is a real babe."
"TAKE A BREAK HONEY, YOU'RE WORKING TOO HARD."
Translated: "I can't hear the game over the vacuum cleaner."
"THAT'S INTERESTING, DEAR."
Translated: "Are you still talking?"
"YOU KNOW HOW BAD MY MEMORY IS."
Translated: "I remember the names and stats of dozens of football players', the telephone number of my first girlfriend, and the vehicle identification numbers of every car I've ever owned, but I forgot our anniversary."
"OH, DON'T FUSS – I JUST CUT MYSELF, IT'S NO BIG DEAL.
"Translated: "I will bleed to death before I admit that I'm not a tough guy."
"I CAN'T FIND IT."
Translated: "It didn't fall into my outstretched hands, so I'm completely clueless."
"WHAT DID I DO THIS TIME?"
Translated: "What did you catch me at?"
"I HEARD YOU."
Translated: "I haven't the foggiest clue what you just said, and am hoping desperately that I can fake it well enough so that you don't spend the next three days yelling at me."
"YOU KNOW I COULD NEVER LOVE ANYONE ELSE."
Translated: "I am used to the way you yell at me, and someone else might be worse."
"YOU LOOK TERRIFIC."
Translated: "Oh, please don't try on one more outfit, I'm starving."
"I'M NOT LOST. I KNOW EXACTLY WHERE WE ARE."
Translated: "No one will ever see us alive again."
Related Posts:
Zawaj.com Humor Files: The Old Man, the Little Boy and the Donkey
The Old Man, the Little Boy and the Donkey
Goha and his small grandson were on the way to market. Goha had a bad hip, so he rode their donkey while the little boy walked beside him. Presently they passed some women on their way home from the market. One of the women said, "Look at that old man riding while his little grandson walks. He has no compassion for the young. Shameful!"
Goha heard this and felt embarrassed, so he said to his grandson, "You must be tired. Why don't you ride for a while, and I will walk?"
Presently they passed some elderly men who were sitting around drinking coffee and playing backgammon. One of them said, "Look at that boy riding, while his old grandfather limps. Were is the respect for the elders? That boy has been badly raised."
Again Goha felt embarrassed. He said, "Let's ride together for a while." So they both rode the donkey.
Soon they passed a man in religious robes who said to them, "Salam my friends. Don't you know that even animals have rights in Islam? You are burdening that poor animal with your combined weight."
Finally Goha decided that they would both walk, in order to give the donkey some rest. They both trudged along beside the donkey, the old man limping and the boy complaining that his feet hurt. As they passed a group of young men who were loitering and watching passers-by, one of the men exclaimed, "Look at those fools walking while they have a perfectly good donkey! Are they afraid of heights?" And all the young men laughed.
The moral is clear: Altering your behavior to please other people is futile. No matter what you do, someone will always find fault. Do what you feel is right, and stick to it.
Related Posts:
Zawaj.com Humor Files: Mullah Nasruddin makes a beggar climb
Zawaj.com's Islamic Humor Files
Mullah Nasruddin Makes a Beggar Climb
Editor's Note: Some call him Goha or Joha, the Turks call him Hodja, while the Persians and Afghanis call him Mollah, Nasrullah or Mullah Nasruddin. Regardless of what you call him, this wise, mysterious and sarcastic figure has been a fixture of Middle Eastern stories for centuries.
One day Nasruddin was up on the roof of his house, repairing some broken tiles that were letting the rain leak through. He was not happy about being on the roof, as he was afraid of heights, and he worried about climbing on his rickety ladder.
As he was working, a stranger knocked on the door. Nasruddin heard the knock and shouted out, "What do you want?"
"Come down please" replied the stranger. "I wish to talk to you in person."
"Just tell me!" said Nasruddin.
"Please won't you come down," the man said. "I only need a moment."
Nasruddin slowly and fearfully climbed down the ladder, grumbling to himself.
"Well," Nasruddin said when he got to the bottom. "What's so important?"
"Could you give a little money to this poor old man?" said the stranger. "You can see that I am hungry and poor."
Exasperated, Nasruddin started to climb up the ladder and said, "Follow me up to the roof. But be careful, as the ladder is old and rickety."
With some hesitation, and looking quite worried, the beggar climbed the ladder. When both Nasruddin and beggar were upside, on the roof, Nasruddin said, "No."
Related Posts: