The Strange Saga of Musanin Komeagae and Sarah Cook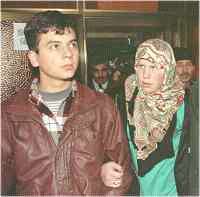 Zawaj.com Editor's Note: These news stories describe a drama that played itself out in Turkey from 1996 to 1998, involving the marriage of an 18 year old Muslim man to a 13 year old British girl. The stories are written by Western journalists and carry some bias against Turkish culture. Nevertheless, I found the story interesting and I believe it exposes the degree to which the Western press and Western thinking has demonized traditional Islamic customs. Now, on with the story:
23 January 1996
POLICE and social services were trying yesterday to establish if they had authority to intervene in the case of a 13-year-old British girl who has married an unemployed Turkish waiter she met on a family holiday.
Sarah Cook, of Braintree, Essex, wed 18-year-old Musanin Komeagae at an Islamic ceremony in Turkey two weeks ago and is now living in a two-room apartment in the remote southern town of Kahramanmaras.
Her parents, Adrian and Jackie, consented to the wedding and attended the ceremony.
They relinquished custody of their daughter to Mr Komeagae and his parents and sold the story of their daughter's marriage to The Sun newspaper, to whom they are now under contract.
However, the marriage was said by a Turkish embassy official in London to be invalid. He added that Mr Komeagae could be prosecuted for having unlawful intercourse with a minor.
In "very extraordinary cases" with parental consent, a judge could allow girls as young as 14 to marry in Turkey but the normal minimum age was 15, the official said.
Mrs Cook, who works at a retirement home, said: "I don't care what people think about her marrying because she is loved and happy. If people don't agree with it, then tough."
Sarah was said to be having a full sexual relationship with her husband from the age of 12 and converted to Islam before the ceremony. In some areas of Turkey, Islamic custom allows for men to have up to four wives, though only one wife is recognised by the secular state.
The couple first met while the Cook family was on holiday at the Turkish resort of Alanya last summer. Mr Komeagae was a waiter at their hotel.
"We were never told that her family had put her love life before her education"
She came home after the holiday saying she was engaged and persuaded her parents to allow her to return to Turkey in October.
The Foreign Office have offered any assistance they can give to Sarah but a spokesman said the responsibility for her welfare rested with her parents. "It is for the parents to respond to the offer," he said.
Richard Snelling, 50, head of Sarah's school, Tabor High School, said the news of her marriage had shocked the staff and pupils alike. They became aware of something wrong when Sarah did not return to her Year Eight class at the end of the half-term holiday in October.
"We heard she had gone to Turkey to stay with a family but no more," Mr Snelling said."We were anxious that she was not attending school. We alerted our education welfare officer and the social services to find out what was happening.
"They got into a tangle about what was and what wasn't legal and I gather it went as far as the Home Office.
"We kept on expressing our concern but it became clear that she would not be returning and just before Christmas we took Sarah off the roll. Technically, she is no longer a pupil of this school and is the responsibility of the local authority."
Some books and other educational literature were sent to Turkey by the school and Mr Snelling told Sarah's parents he was concerned that Sarah's education would be discontinued.
"We were never told that her family had put her love life before her education. We are very worried about her. She is very young."
Essex social services have also interviewed Mr and Mrs Cook and met local police yesterday to discuss the legal position.
"It is unclear what legal powers we may have in a situation like this but we are taking the case very seriously and should know more tomorrow," said a police statement.
--------------------------------------------------------------------------------
24 January 1996
Husband of girl, 13, charged with rape
By Amberin Zaman in Ankara and Ben Fenton
A TEENAGE Turk who went through an illegal marriage ceremony with a 13-year-old British girl was arrested yesterday on charges of rape and seduction of a minor.
Sarah Cook, of Braintree, Essex, was given a virginity test after testifying before a public prosecutor in Kahramanmaras.
Her 18-year-old husband, Musa Komeagac, was charged because Sarah is two years too young for a legal wedding and Turkish law forbids sex involving unmarried women under the age of 18.
Komeagac, who spent last night in jail, is due to appear before a court in the eastern Turkish town this morning to answer the charges.
He faces a possible sentence of five years' imprisonment.
Sarah could be deported from Turkey soon because her 90-day tourist visa expires before the end of this month and her marriage is not recognised.
Komeagac's lawyer, Selim Surmen, said his client would resist the charge and there would be testimony from his wife.
"I think we've done the right thing" said parents
"Sarah has said she will love Musa until death," Mr Surmen said. "There is no force used in this relationship. We'll appeal for his release."
Sarah, who went to Turkey in October, underwent the virginity test as the prosecutor sought to support the charge of statutory rape.
Her parents, who consented to her flying out to Turkey to marry Komeagac after a holiday romance last year when she was 12, sold the story to a national newspaper and would not comment on yesterday's charges.
But in an earlier interview with GMTV, her mother, Jackie Cook, 37, said: "We discussed it with her. I've really gone into it with her."
Asked why she had allowed a child of 13 to act in this way, Mrs Cook said: "She's very mature for her age."
She said Sarah had not been "involved with sex" when she was 12 but that it was all right for her to be having sexual intercourse now because the couple were married.
"I think we've done the right thing and . . . it's not illegal under Islamic law," Mrs Cook said.
Speaking on the telephone from Turkey on the same programme, Sarah said she could not consider coming back to Britain. "I've tried that after I came back from my holiday, but I just lay on the bed crying," she said.
Asked how she felt now, Sarah said: "I'm as great as anyone can be. I'm with the man I love."
The Foreign Office said it had spoken to Mrs Cook and her husband, Adrian, 42, and was waiting for developments in Turkey before deciding what would be best.
--------------------------------------------------------------------------------
25 January 1996
Bride, 13, made a ward of court
By Caroline Davies, Amberin Zaman and Ben Fenton
A 13-YEAR-OLD British girl who went through an Islamic wedding ceremony with an 18-year-old Turkish waiter was made a ward of court yesterday and a High Court judge ordered her return to Britain "forthwith".
Sarah Cook was waiting last night to be reunited with her mother, Jackie, from Braintree, Essex. Mrs Cook was served with papers relating to the wardship when she landed at Adana airport in southern Turkey.
It was expected that Mrs Cook would follow the orders of Sir Stephen Brown, President of the Family Division of the High Court, that Sarah should be brought back to Britain and remain here until further notice.
Musa Komeagac, Sarah's husband, remained behind bars in his home town of Kahramanmaras on a charge of statutory rape.
When Komeagac returns to court this morning, Mrs Cook is due to be called to explain why she gave consent for the marriage, held two weeks ago, despite her daughter being two years too young to be married legally.
At the court hearing she may apply for the return of her daughter's passport and for consideration of the British court's ruling. Although Sir Stephen's order is not directly enforceable outside the jurisdiction of the English courts, it is a general principle of private international law that rights and obligations acquired or incurred in one state are recognised in another.
Because the order, which makes Sarah a ward of court until the age of 18, was directed to her parents, they could face punishment for contempt of court if they do anything to frustrate her return.
Mrs Cook, 37, appeared on GMTV with her husband, Adrian, 42, yesterday and admitted: "Looking back, perhaps letting Sarah get married was the wrong thing to do, but everyone makes mistakes.
"All I want to do now is get my daughter home. Sarah is in such a state. She doesn't know what is happening to her or her husband. I've got to go and see her and calm her down."
Mr Cook said: "We have done our utmost for her, to make sure she was safe.
"She did what she wanted to do - that's her wish. We just went along with her dreams. Now her dreams have been shattered by the Turkish government, but we were led to believe that this wedding was OK."
There was pandemonium as more than 50 photographers and film cameramen crowded into the small arrival hall at Adana, where Mrs Cook was met by an official from the British Consulate.
She emerged from the airport escorted by security guards and was driven away in a car provided by the Sun newspaper. Photographers jumped into their cars in pursuit, swiftly followed by Turkish police.
Sir Stephen's order, granted after lawyers representing Essex social services and the Official Solicitor appeared before him in private, barred the Cooks from discussing Sarah's welfare with the media.
Despite this, both mother and daughter were in the company of Sun journalists last night who were whisking them around Turkey in an effort to effect a reunion away from the lenses of other British photographers.
Sarah had earlier told the Sun, which paid for the family's story, that she could not stand to be separated from her husband.
"If they keep Musa in jail, I will kill myself because I can't live without him," she said. "He is my husband and I love him."
Michael Leadbetter, director of Essex social services, said: "There was every indication that the parents wanted to leave Sarah where she was in Turkey. We did not believe this should happen and thought she was not informed enough to make those decisions."
Selim Sumen, Komeagac's lawyer, said the couple were distraught at being kept apart. "Probably no one at the wedding, including the man who gave the blessing, would have asked her age. She is a very large girl," he said.
Local sentiment is running high against the British court and particularly the British press. Ali Sezal, the mayor of Kahramanmaras, said: "A British girl has chosen our faith, that's what the fuss is about. I've been to England and I know about the orgies, the drug parties where young people do what this couple chose to do honestly and in keeping with Islam."
The Turkish media have been largely sympathetic towards the couple, portraying them as a latter-day Romeo and Juliet.
Mr Sezal said: "Under Islamic law, their marriage is perfectly legal. As you know, our holy prophet, Mohammed, took his second wife, Ayse, when she was only nine years old. Of course, girls mature quickly in the Arabian desert."
--------------------------------------------------------------------------------
26 January 1996
Girl of 13 hailed as 'bride of our city'
By Caroline Davies in Kahramanmaras
HUNDREDS of young men demonstrated yesterday in support of the 13-year-old girl who has gone through an Islamic wedding with a Turkish waiter, Musanin Komeagac.
They marched through the streets of Kahramanmaras, a mountain town in south-east Turkey, chanting "Free Musa", and effectively laid siege to the house where Sarah Cook has stayed since her mother arrived on Wednesday.
With her mother, Jackie, at her side, the teenager from Braintree, Essex, was paraded for photographers by the mayor, who is backing her.
As the marriage is illegal in Turkey - she is under the age of 15 - Sarah's husband remained in jail. He faces charges of rape.
Sarah emerged from the house to cheers and applause from the Muslim men who are proclaiming her a heroine for embracing their culture.
She and her mother posed on steps outside the house before being taken to a press conference staged by the mayor, Ali Sezal. "I want to make Sarah the bride of the city, and Musa the groom of the nation," he said.
Mother and daughter, forbidden by a High Court order to talk to journalists, sat quietly as microphones were pushed towards them. Neither speaks Turkish and both seemed bewildered. "I can't say anything," Mrs Cook repeated.
The case of Sarah, who married Mr Komeagac, 18, in a religious ceremony on Jan 8 with the consent of her parents, has inflamed nationalists in the remote region which borders Syria. A High Court directive in London ordering her mother to bring back her daughter has roused fervent political and religious debate. There is no indication of when she would be returning Sarah to Britain. To many people in Turkey, however, Sarah's story is no longer about young love but East versus West. "She is our adopted daughter," said one journalist. "She will have a good life here. You should not take her away."
Other Turkish journalists offered gifts of chocolate and lace. Throughout it all, Mr Sezal made a show of telephoning the prison to inquire when Sarah could visit her groom.
Sarah has not seen her husband since his arrest on Tuesday. She had been living in a two-bedroom tower-block flat with his mother Esma, father Ali and his brother and sister.
When her mother arrived, they moved to a second home owned by the Komeagac family. She has converted to Islam and, since her husband's arrest, she spends her days cleaning, baking and perfecting her role as housewife.
The only reminder of the discos in Braintree are her Madonna CDs, which she plays on a portable player, listening through earphones.
Mr Komeagac, whom she met on a family holiday to Turkey when she was 12, is likely to stay in his cell until his next court appearance on Feb 15.
Mr Komeagac senior was charged yesterday with aiding his son's crime.
--------------------------------------------------------------------------------
Tuesday 30 January 1996
Judge reassures bride
By Kathy Marks
A HIGH Court judge yesterday told Sarah Cook, the 13-year-old who married a waiter in Turkey, that she will not be taken into care if she returns to England.
Sir Stephen Brown, president of the Family Division, last week ordered Sarah, of Braintree, Essex, to return to Britain "forthwith".
She has so far defied the order, vowing to stay in Turkey while her "husband" Musa Komeagac, 18, remains in jail.
Yesterday, after adjourning a wardship hearing Sir Stephen issued a brief statement in open court.
"What is desired is that she should return to this jurisdiction so that the situation regarding her welfare shall be properly considered," he said.
--------------------------------------------------------------------------------
2 October 1996
Schoolgirl bride has waiter's baby
By Carole Cadwalladr
SARAH COOK, the 13-year-old schoolgirl who ran away to Turkey to marry a waiter after a holiday romance, last night gave birth to a 7lb boy.
She immediately telephoned her 18-year-old boyfriend, Musanin Komeagac, who is due to appear in a Turkish court today charged with statutory rape. Earlier this year, Sarah, who had her 14th birthday last month, said she would call the baby Mohammed if it was a boy.
She was made a ward of court in February when a High Court judge decreed she must return to Britain and imposed tight reporting restrictions on the whole family. But a statement was issued yesterday with the approval of the president of the family division of the High Court.
It said: "Sarah and her baby are both in good health and Sarah was able to speak to her baby's father, Musanin Komeagac, after the birth. There are no immediate plans for Musanin to visit his son."
Musanin was charged after the couple married in an Islamic wedding ceremony not recognised under Turkish law. His trial was adjourned until today. If convicted, he could face up to 10 months' imprisonment.
The waiter proposed to Sarah after a three-day romance in the holiday resort of Alanya when Sarah was just 12. Her parents, Jackie, 37, and Adrian, 42, of Braintree, Essex, gave her their permission to go to Turkey and become his wife.
Last night, her uncle, Peter Cook, said he had dropped all contact with the family. He said of the baby: "It's just another mouth the taxpayer has got to feed. The social services just slapped their wrists and let them get on with it. It's a fine 14th birthday present for her."
--------------------------------------------------------------------------------
6 July 1997
Child-bride's husband feared kidnapped
By Amberin Zaman in Ankara
MUSA Komeagac, the Turkish waiter who went through a marriage ceremony with a 13-year-old English girl, was yesterday reported to have been kidnapped.
His father told police his son had been abducted by a local "madame", known as "Aysel", according to the Turkish newspaper Milliyet. It was unclear why Aysel, who allegedly specialises in selling young girls, would have wanted Musa, who comes from a poor family in the southern town of Kahramanmaras.
Komeagac has suffered a string of misfortunes since his "marriage" last year to Sarah Cook, from Essex, in a ceremony not recognised under Turkish law. He had met the girl while she was on holiday near his home town.
A Turkish court later acquitted him of the statutory rape of Sarah. During the highly-publicised trial the presiding judge said the marriage had taken place with the full consent of both sets of parents.
Pubescent sex is a subject of heated national debate in predominantly Muslim Turkey, but most Turks were overwhelmingly sympathetic to the young couple. They were parted after the British courts ordered Sarah's return to Britain, where she gave birth to a son last October. Britain has refused to allow the father to visit.
He starred as himself in a television mini-series based on the ill-fated romance, but has since been unemployed most of the time.
All Above Articles Courtesy of The Daily Telegraph
--------------------------------------------------------------------------------
BBC 9 October 1997
Turkish underage marriage waiter fined
A former waiter in Turkey has been fined £5 for having sex with an underage British girl he had married in an unofficial religious ceremony. He was originally given a jail sentence -- but this was commuted. The girl, Sarah Cook from Braintree in Essex, gave birth to a boy last year.
--------------------------------------------------------------------------------
December 23 1997
Turkish ex-waiter who wed British girl remarries
ANKARA, Dec 23 (Reuters) - A Turkish former waiter whose star-crossed love affair with an underage British girl sparked a media sensation in 1996 has married a Turkish woman in a Moslem ceremony, Anatolian news agency said on Tuesday.
It said ex-waiter Musa Komeagac married Aylin Tarhan in the eastern province of Adiyaman on Monday,
``There were no journalists among the 40-50 people who attended the religious wedding of Musa and Aylin,'' the agency said.
Religious marriages conducted by Moslem clergy are popular in rural Turkey but are not officially recognised under the secularist law.
Komeagac married British girl Sarah Cook in a religious ceremony in Turkey in January, 1996, after the pair met while she was on holiday on Turkey's Mediterranean coast the previous year. Cook was only 13 years old when she met Komeagac, who was five years older.
British media reacted with outrage, blaming Sarah's parents for letting her leave school and move to an obscure Turkish town to live as a traditional Moslem housewife.
Cook was made a ward of a British court and returned to Britain with her mother in February, 1996. The Turkish media later quoted Sarah as saying she had given up on the relationship, partly because of the distance between them.
The two have a baby son who lives with his mother in Britain.