Articles
Cyber-Blessing:
Arrival of information technology in India allows women professionals to work from home
By M. H. Lakdawala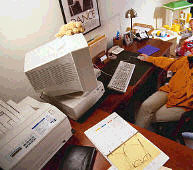 THEY say you can't have your cake and eat it too. But for some women in India, it now looks as if you can. Countries opting for flex time or telecommuting have found that the system has thrived, and one of the best spin offs has proven to be for women working flex time. The quality of their family lives has often improved radically under the new working arrangements.
Flex time means no fixed working hours, no need to go to the office, and working from one's residence at a convenient time. Already, one-third of American households have at least one person performing compensated work at home for at least one day each week. Thanks to new technology and the changing nature of work itself, fully 60 per cent of the workforce today perform jobs for which physical location is no longer critical. The geographic same-time-same-place workplace is being replaced by anytime-anywhere-workspaces.
The trend is gradually catching up in India.
Razia Patel has been in the hotel industry for 15 long years and had worked full-time. So when an option was pointed out by Redforwomen, a portal enrolling women for flex-time jobs, she thought she could see what it would do to change her working conditions. "Honestly, I needed a different work style - one in which I could work on my own terms and make the kind of money I wanted for myself," said Razia. "I also wanted to spend more time at home with my daughter and generally make time to do all the things I've missed out in life like learning embroidery and improving my existing skills like taking a HR course. Basically getting the maximum out of life."
What are the different types of flexi-time opportunities?
Consulting or project work: Utilising self employed professionals for long or short-term projects. Usually research and skill-based qualifications complement project work. Consultant positions would be retainerships with companies at medium or senior level management. Retainers can come in thrice a week, and manage the rest of the work from home, so they end up doing only 20 per cent less work than their full time employees. This is also because retainers are focused on meeting deadlines, and hence do not get involved in other office nitty-gritty, which full time employees generally find unavoidable.
Telecommuting: Permits some portion or even the employee's entire job to be completed from home. This could be ideal for a stock market analyst, a media planner, a creative person in an ad agency, or a tele-sales executive.
Selling: Selling forms a large part of flex-time opportunities. Primarily, companies like Levers, Herbal Life, and Amway are looking for women to sell their products through their social groups.
Other categories of flexi-time opportunities are: art, paintings and craft, beauty products, beauty therapy, career counselling, communication, cookery classes, catering services data entry, education, fashion designinng, fashion exports, fashion retailing, fitness classes, footwear, furniture, gifts, greetings, hardware, interior design, jewellery, kidswear, match making, media, medical advice, miscellaneous research projects, selling stationary, tele-marketing, travel writers etc.
Zarina Memon operates from her home-office, helping clients plan and book their vacations. As an independent travel agent, she has a tie-up with a host agency and books airline tickets for them, of course for a percentage of commission. "There is neck-and-neck competition in this career," Zarina says. "Women who want to work on their own hours can represent different hotels or resorts and holidays can be arranged for them in collaboration with the hosting hotel or resort. Spending on travel and leisure is never expected to decrease so a world of opportunities is open for travel agents."
Aliya Khan has embarked on a flex-time job by doing a part time diploma in public relations. She has approached business houses, government agencies, schools, hospitals, and other organisations. She earns money raising a client's profile or by disseminating information on a client's behalf. As much of the work involves calling up and writing, Aliya does her work at home, on part time basis.
Sania Punwani, a post graduate in Microbiology, is working as technical writer for a British firm. Her job involves translating scientific and technical jargon for consumers into simplified and plain English, by creating manuals, tutorials, and user documents for products ranging from computers to medical devices to household appliances. "This is an interesting job because technology is undergoing radical changes everyday and you would be abreast with the latest technology breakthroughs. Flexibility is the key word in this kind of job. You could work when and where you want to,"said Sania.
Farida Tankiwala, a diploma in hotel management from the Dadar catering college, Mumbai, has delivered her second daughter Sakina by Caesarean barely two months ago. But she is already back to work - at her residence. The job: Farida is a counsellor for overseas education specialising in admissions to hotel management programmes in various Australian universities. Sitting in a drawing room which has been transformed into an office, she advises students how to fill out forms, documents to go with them, manner of dispatching, and even what to carry when heading for the Down Under. The best thing about the job, according to Farida: "It is absolutely flex time. I can work out of home completely. And even while I do that, I can keep in touch with my profession and the industry." Flex time is a good concept which needs active promotion in the community. It can be a powerful tool to empower the deprived section of the community, especially women. The need is to spread computer literacy and internet training by opening centres offering subsidized and if possible free computer training for women.

Reprinted from Islamic Voice, December 2000, Ramadhan 1421

Articles