Islam Unveiled
Muslim women explain their beliefs about God and faith to young, curious minds.
By Angela Miller-Hood
Reprinted from the St. Petersburg Times Online, January 19, 2002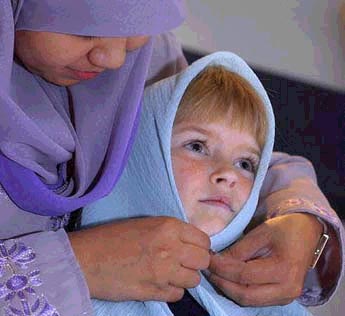 [Times photo: Lance Rothstein]
Maysi Hnin shows Catlyn Harrier, 8, how to wear a hijab during a visit to St. Anthony Interparochial Catholic School. Six women who attend the University of South Florida in Tampa offered insight on their faith.
SAN ANTONIO -- Why do you wear that veil and those clothes?
That was the question of the day when six Muslim women visited St. Anthony Interparochial Catholic School on Jan. 11.
Children sat in awe of the women, who wore head scarves called hijabs and clothing that covered most of their bodies.
The students listened attentively while the women explained that their modest dress was to preserve their beauty for family members. They also talked about how the hijab boosts their confidence by forcing people to judge their character rather than their looks.
"The more we can understand other people, the more we can live in peace and harmony," said the Rev. Henry Riffle. "(The children) are at a very informative age."
The women, who attend the University of South Florida in Tampa, are part of a student group that promotes the Islamic faith by speaking at events.
"This is a way of life for me and my friends," said Maysi Hnin, who directed most of the program. "I try and remain calm and open-minded to questions, to help people understand."
Four of the women were born into Islam; the others converted.
The women told the students about God, whom they call Allah, which is Arabic for God. They also talked of their belief in prophets. Jesus was one of them, they said, though Muslims do not consider him the Messiah. Rather than pray through Jesus, they said, Muslims pray directly to God. They showed the children their holy book, the Qur'an, and demonstrated how Muslims pray five times a day. They kneel on a rug that faces a certain direction, saying the words of a prayer along with body movements.
"We are constantly remembering God this way," Hnin said.
The women said Islam is a peaceful religion and that they are taught to be kind to people, animals and nature.
After the program, students said they didn't know that not all Muslims are Arabs, and that Muslims also speak English, revere Jesus and come from all over the United States.
The topic of terrorism was not discussed. Before the presentation, though, some students remarked to religion teacher Shelia Mahoney that they thought all Muslims were like Osama bin Laden. The students said afterward that they had a much better understanding of Islam.
"I was glad to attend myself; I was enlightened," Mahoney said.
Mahoney said that although they mainly teach students about the Roman Catholic faith, she would like to see more ecumenical teaching.
Keri White attended the program with her daughters Kathleen, 9, and Mary, 12.
"I am very open to informing them on all religions; I like the girls to learn what other people believe," White said.

Articles