School Offers a Cultural Connection
The Islamic school's growth follows the metropolitan area's increasing Muslim population - Portland, Oregon.

By Janet Goetze of the Oregonian staff
published in the Oregonian, Monday, January 29, 2001

Letters of the alphabet line a wall in the first-grade classroom, but the butterfly isn't beside the B, the deer isn't next to a D and the lemon isn't with an L.
Instead, the animals and fruit are pictured next to the flowing letters of the Arabic alphabet, which pupils at the Islamic School of the Muslim Educational Trust are learning so they can read the Koran, the holy book of Islam, in its original language.
Arabic, the universal language of Islam as Latin once was for Western Christianity, is part of the curriculum at the school, founded to provide a solid academic background while guiding students with Islamic principles, said Wajdi Said, executive director of the educational trust.
The school opened with 12 students meeting in basement rooms of Portland State University's campus ministry building in 1997. The enrollment of first- through sixth-graders has reached 49, and 35 names remain on a waiting list, said Gail Ramjan, assistant director of the educational trust.
A year ago, teachers and students moved to a remodeled house on 2.5 acres along Scholls Ferry Road in Tigard. In three years, the business and professional people on the board hope to build a new school, according to Said (pronounced sa-EED). A six-year goal is to expand to 12 grades, enrolling more than 300 students, he said.
The school's expansion follows the growth of the metropolitan area's Muslim population, estimated at 5,000 to 8,000 people, said Samira Godil of Vancouver, Wash., president of the Islam Society of Greater Portland.
Thirty years ago, most of the region's Muslims were college students who gathered for prayers at Portland State's campus ministry building. Today, Muslims of all ages gather each Friday in the region's five mosques as well as at Portland State.
"The Muslim community is growing, and as it grows, parents will have a choice about sending children to an Islamic school," said Nohad Toulan, an advisory board member and a founder of Portland State's School of Urban and Public Affairs.
"It does not reflect a philosophy that we are trying to isolate our children from the larger community," said Toulan, who grew up in Egypt and arrived in Portland nearly 30 years ago.
Simply, he said, it means that Muslim families can select a school with a religious framework, as many Christian and Jewish parents do.
Observing Islam at School
The students learn about the Islamic principles of faith in one God, praying daily and extending charity to the less fortunate. They also study language arts, math, science, social studies and computer skills.
Sheri Zaghab of Aloha, a Muslim convert, said, "The moral fabric of our country is ripping apart and people are looking for something to guide them."
She and her Palestinian husband, Abdalah, a computer programmer, want their first-grader, Manaf, and two younger sons "to learn a proper moral education in a Muslim setting," she said.
For Julie El-Aghil of Southwest Portland, the school and its uniforms -- white blouses or shirts and navy jumpers or trousers -- remove peer pressure about clothing she felt was imposed on her 11-year-old daughter, Sarah, in public school.
For Nuri Tarhumi, the owner of a Portland limousine service, the school gives his children, Fatima, 8, and Mohamed, 6, some of the Islamic culture and academic structure he knew in Libya, which he left 21 years ago to attend Gonzaga University in Spokane.
Because teachers and students are of many ethnic backgrounds, El-Aghil feels relieved that her daughter won't be teased for having a Middle Eastern surname.
"I worry about discrimination against my children," said the Northwest native whose husband is from Yemen. "I know Sarah isn't going to be discriminated against here."
Most classes include 12 to 15 children, but they may be in two or three grades. As a result, teachers have the challenge of presenting lessons for two or three age groups, said Taghrid Elmeligui, who grew up in Egypt, earned a master's degree at the University of North Texas and now teaches computer skills and Islamic studies.
Nevertheless, parents like the small classes, Zaghab said.
"Here, every teacher knows every student," she said. "That makes them feel special."
The teachers, all women, cover their hair and wear long skirts or slacks in conservative Muslim style. Some mothers, dropping their children off in the morning, don't cover their hair, indicating a different clothing preference. Modest dress is the Muslim guide for both men and women, Ramjan said.
After lunch, while some children put away lunch boxes, others gather in an assembly room for afternoon prayer, one of five times observant Muslims pray each day.
A central tenet of Islam, the practice of the religion outlined by the prophet Mohammed in the seventh century, is submission to the will of God or Allah, as the Supreme Being is called in Arabic. A sign of external submission or self-discipline is arranging daily schedules around prayer times. Internal discipline includes refraining from gossip and other behavior that could harm others.
In the assembly room, several students help teachers spread prayer rugs at an angle on the floor so their heads will bow east toward the Muslim holy city of Mecca. Girls cover their heads with scarves. Boys put on prayer hats crocheted with bright, geometric designs.
While waiting for prayer to start, the children often watch a videotape from an educational series featuring Adam, a young, hip American Muslim. On one tape, Adam visits the world's major mosques. On another, he samples Jordanian foods. In a third, he explores the ancient city of Petra.
"Totally cool," Adam says of his experiences.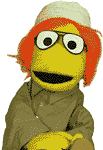 Adam of the Adam's World educational series
Several students transferred to the Islamic school from public schools, including fifth-grader Noor Makboul of Beaverton.
"I wanted to learn Arabic and to have smaller classes," said the 9-year-old, whose father is from Jordan and mother from Portland.
Sixth-grader Aayah Yassin, who left Syria with her family five years ago, likes the school but, like other pre-teen girls, she has reservations about the uniforms.
"They look better on the little kids," she said. Sometimes the older girls want to wear jeans, she said.

Articles