Betrayed by an unjust husband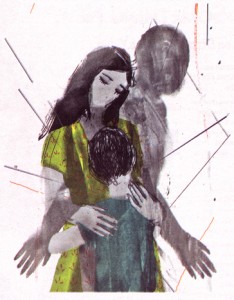 Salaam. I am married with two children. My husband and I have been married for 8 years. My husband had to leave the country due to issues which we could not control. We have not lived together for a few years. However, we have kept in contact by phone, skype and we visited him in the other country.
When he left to live in his country with his mom and dad I would send them money when I had extra so they would not go without because there is a lack of work there and I consider them my family. I have stayed here in this country only to pay off my loan and my husband knows this.
I get no financial support from my husband for anything. I told him help your mother and father first then if you can us. I understand.
However, what I later found out last month was that yes he was helping his mother and father but he also married someone else and got them pregnant too and is supporting them and living together.
Just before our child and me went to visit him overseas my car broke down and I had to get another car to keep going to work and support my family. He knew we had to go back. But if only he asked we would have stayed to find a situation to pay off my loan. It also hurts to find out a month after we visited him he said his mother forced him to marry another.
Also that same month it was confirmed that I was pregnant with our second child. I was so happy for our new blessing . I worked through my entire pregnancy on my feet all the time and doing physical work too. There were many times when I was walking and then my hip would go out and after work it would be hard for me to get in my car and drive because I was in so much pain. And my feet were always in pain. I drove myself to the hospital because my water broke while I was at work.
But there was still no help for me. I told him what was going on. I think the only reason why he finally told me the truth was because I asked to live with him overseas. He later told me in a email that he had another wife and baby that is only 2 month younger than our child.
Now, he tells me that he wants me to have peace in to my heart about the situation. He says we are the old house and his family he has now is the new house and he does not want to destroy it.
First he told me she is only there to take care of his parents because it is his duty as a son to help his parents in old age. Then he tells me he still loves and miss me and the children. I asked him when we come where would we stay if the home is so small and there are not enough of rooms. He says his home is always open to us. And he does not know where we would stay. Then he said the children and I can visit throughout the years. I am married to him. How could he say such a thing.
He says his goal is to support "his" family. What about us?
I ask Allah for guidance. But I feel my heart breaking and that everything I have been doing to reunite my family disappearing. He says he does not want to let us go. Nor do I want us to leave.
But there is something else that he said that hurt. When he said if we were there he would feel like he is cheating then I told him but I am your wife and he said yes you are right. He is my husband I love him. He says he has to follow what his mother says. Because, if she disapproves then Allah disapproves. But, to break a family is not right. He said it is up to his mother if we live there. I don't want to disrespect anyone. But I don't want to be without my husband and our children without their father. This situation seems very one sided. This is not just. Help I need advice.
amina123
7 Responses »