In Love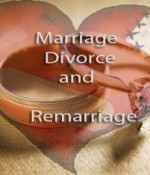 October 13, 2021
While engaged to the man I was forced to by my parents, I met a man that I love at University. My fiance is so rude to me and only likes my body…not who I am as a person. Is it ok if I get divorced and remarry?
Full Story»

I lied to my mom and said my cousin and I aren't keeping in touch.
To change and manipulate my mind, my mom keeps crying. But when I ask her why she is crying, she says just so that I can leave my love and marry another man!
Does this mean I should forget about marrying him?
More in this category