In Love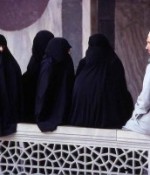 May 21, 2019
My husband is not polygamous, and says he does not have an interest in polygamy, but still I find myself living in constant fear and worry that he will one day change his mind and I'll find myself in one of these marriages.
Full Story»
I asked my mother just to meet them once at least, but she says my your father will never agree and he will blame her for sending me to the institute, and she can't make life more hell. I told her to try to convince him in a proper way, but she doesn't agree, and she said that I'm trying to break her trust by saying this.
My father was fine, however due to people who would like me to marry their own son causing fitna, my dad is now totally against this union. Therefore I feel stuck – please, please, please tell me where I stand in terms of not listening to my father?
I loved somebody so so so much. But I got engaged to a person who love me so much but I have no feelings for him. My love doesn't even know that I love him. I am so heartbroken. I want to discuss it with my teacher(we have an emotional contact). But I hesitate […]
More in this category