In Love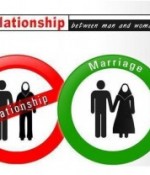 October 20, 2019
My fiancé and I want to become physical but our marriage is 3 years away. Can we do a secret marriage?
Full Story»
As destiny would have it, I started getting inclined towards a student of mine who was just 18.
I want to marry another person who has taken care of me for over 10 years now.

His family is eager but were waiting for me as my father wanted me to have a job first.
More in this category