Education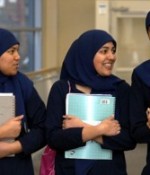 June 27, 2020
There is a university in another city that I want to attend, but my parents refuse to let me go because of Islamophobia in our country.
Full Story»
Can you pray for my son's life and full recovery? For him to have long life so he can bring the baby into Islam?

He is less educated and smokes, and we may not be able to understand each other.
I think I hate my mother, but I don't want to. She's my mother, after all. I also think I'm depressed. I have to give a thesis this semester but I can't concentrate on my work. I can't sleep at night, I keep blaming and feeling crap about myself.
More in this category