Promiscuity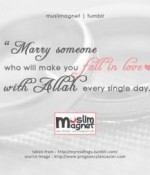 February 17, 2022
I am in a relationship with a guy who lies and requests creative sexual situations of me. He still wants to marry me after all that!
Full Story»
Should I divorce my wife? She was unresponsive to Ruqyah and I don't know what other options I have at this point.
I found out that my fiance has had intimate and sexual relations with another. Should I consider her past in my decision to marry her?
I want to convert to Islam but I'm scared. I have no Muslim friends and have so many questions. I have stopped drinking and smoking. However the hijab is a big challenge for me.
More in this category