Controlling Husband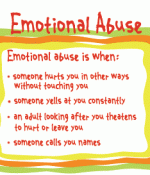 September 3, 2019
My husband of 5 years abuses me emotionally and has divorced me several times already. He always takes me back the next day though.
Full Story»
Married to a highly educated person, who is angel in eyes of others is a mental torturer for me. Has no sympathy towards me not even on humanitarian basis.
I am still single because of my physique, as I am little chubby and everyone wants a smart girl to marry. I am so depressed.
He says I are being disrespectful, he is my husband and I should do what he wants. It's been only six months since we got married, and I got just a few months to finish my studies. If he is acting this way now that am away, what will happen if I am home?
More in this category