Shall I conceive or not?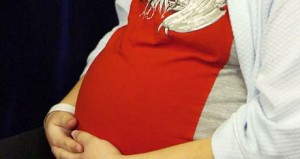 I am a mother of  three. All of them are from my previous husband. I married for the second time a few months ago, and my new husband who is quite older than me wants me to conceive. I want suggestions on this matter.
I live in a non-muslim area. After my first husband's death, I was married to my second husband. I am 41 and he is about 60. my kids are 19, 16 and 11 years old. From the beginning of my marriage, he wanted me to get pregnant with him, but I do not feel safe as he is quite old and also a heart patient. Also, his financial condition is not that good. We are still surviving on my previous husband's money.
Every night he is making love with me to make me pregnant, but I am taking pills without informing him. I know it is a sin. Also my teenage kids are against my pregnancy, and also against their new father. My husband has told me that if I don't conceive, then he will divorce me. I can live without him, but in my non-muslim society it will be a bit difficult for a single lady to survive freely. My kids are urging me to divorce my husband, but I can't tell them that after a divorce other men in society could be harmful for me.
I want to know: will it be better to get pregnant at this age, or shall we separate??
-runu
40 Responses »