Should we divorce or should husband re-marry because we haven't got a child?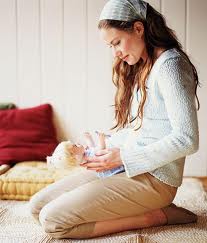 Assalamalaikum,
We are married for nine years, but we haven't got any child..and we both thinking where our relationship is going..? when we were having a chat that for past nine years we haven't got any child, My Husband told me that, there is reason to get married, to starts own family...but in our situation we don't have any child. He loves me alot and I love Him too,I can't live without him.
My mother-in-law is very nice Alhumdullillah, She normally says us be patient ALLAH will fulfill all our Duaa (prayers).  I think the problem is with me because I don't get my menstrual cycle every month. When I see my mother-in-laws face and my husband's face, I feel very upset and devastated. I am the one who gave suggestion to my husband to give me divorce, may be because I can't give him a child and start new life,getting married with another girl.
I don't know what to do?  The only reason I asked him to get married with another girl because of a child, InshahAllah by doing this there will a happiness of a child in my mother-in-laws and my husbands face, I just want them to have happiness of a child to my husband and my mother-in-law. Even my husband told me that,there is no guarantee if I get married to another girl she will get pregnant..I told him I know that as well.
I'm really upset what shall I do? Once about two months ago we did pray Isthikhara Namaaz but didn't see anything in our dreams. I just want my Mother-in-law to play with her grand children and him to be a father. He doesn't want to leave me and I don't want to leave him but only the situation is crushing down on us. and he did agreed to me giving divorce but its mutual understanding between us.
Please give me Islamic advice on this, what shall I do? or Is there any Duaa for me to read?
Jazzaakallah khair.
- Nazia
2 Responses »