Going to hajj with my mom but I'm in debt to many companies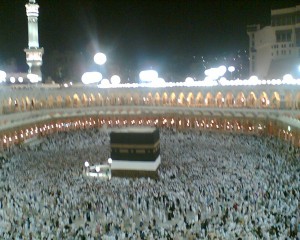 Ok so here is the deal. I'm about to go to hajj with my mom as a meharam I'm excited and all BUT I'm in debt! During my younger days I took on a lot of debt from different companies such as phone companies, tv, traffic tickets and all sorts of other nonsense. 
I'm aware that one shouldn't go to hajj unless all debts are paid off but my mom needs me as her mehram so I could guide and to insha'allah protect her during he travel. In addition she's the one paying since I have no money if I did I would've paid off these debts. Plus She's already paid for the package. 
Inshaallah I want this hajj to he accepted it's my first time visiting the house of Allah and I would hate for it to be ruined.
I don't owe money to individuals but companies Such as T-mobile aka the devil (just to give you an idea) I intend to make payment arrangements once I come back. Is it permissible for me to goto hajj even though I owe money to these companies? 
2 Responses »