Should I lie about my sexuality to my parents?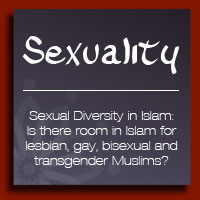 Salam dear Brothers and Sisters,
I may apology for my English and for not be able to express myself correctly.
I'm a 22 year old woman.
I always felt pretty different than my friends, they would look at boys and talk about them, or then they would see someone nice, they would notice him immediately. And I always was the one who had no interest and that was because I never had, I never felt attracted to them or find them appealing, of course I would never say something out loud. I always found girls cuter and sweeter.
The first time I had a crush on, was my female teacher and there it hid me that I really never found any male attractive.
I never acted on my desire on woman and I never Insaalah will, but it's really hard and I fell in deep depression, because I could never talk about this topic to anyone anywhere. When the topic Homosexuality fell, I was always confronted with disgust and hatred, which did hurt me to, but I kept still.
I got over my depression when I started to wear my hijab and started to commit to Allah with 18. I regret that I stared so lately with my Imam, but I'm happy that I did this step, Allah surely did help me through my depressive state, but I can't get over my desire for woman, I prayed for Allah, that I could at least feel some attraction to man, but it's not happening.
I just can't imagine myself with a men and that I should be sexually active with him and bear his children. It just seems not right for me.
However my mother brings this topic so ever often, we start to discuss things, then I say to her that I don't want to marry or use the excuse that I'm currently studying and have no interest in marriage, she always says that I will fall in with someone a would want to marry him.
I just can't go to her and say that I don't like men right? But lying is a big sin in Islam, I really don't know what to do.
Wouldn't my parents would be confronted from Allah, why they couldn't marry me to a men, as they should.
Isn't it a sin not to marry someone, but it really eats me then I think about it.
I'm sorry for my ranting here, but I need to talk someone who can help me neutrally.
assalamu alaikum
rain
Tagged as: disclosing sexuality, Don't want to get married, homosexual, homosexuality, lesbian, lying, Marriage, sexuality
8 Responses »
Leave a Response