What does Quran say about 4 marriages?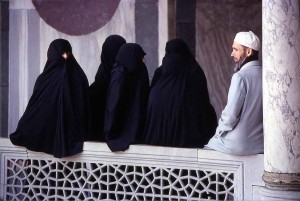 I watched the video on facebook a woman talking about 4 marriages it's to save the men from zina, that these days girls who go to the universities have friendships with boys that lead to zina and people chat on night packages using mobile and skype etc are morally low. She is claiming that during whole night nobody can have a clean conversation over the phone.
So my question is if 4 marriages is to save the men from zina then who will save the wife from commiting zina?
Secondly why do elders think that the university or college going girls are morally low, why they take that kind of friendship in a wrong manner they directly jump on the point of zina like every other girl is having sexual relations with the classmates or friends?
Secondly I want to know under which circumstances 4 marriages or 2nd marriage is allowed or you can have 2nd wife without any reason!?
My third question is that why Islam has not allowed women to keep 4 husbands? Why there is less share in property for women, in nikkah why it is necessary to have two women as witnesses? I mean you need 2 witnesses if two men are not available and only 1 man is available as witness then there will be two women as witness with that 1 man why?
28 Responses »