Marriage Articles
Market Day on the Tajikistan-Afghanistan Border, and a Tajik Wedding
By Christine and Jelt from their blog
http://christineandjelte.blogspot.com/2010/11/cross-border-markets-and-our-first.html
Cross Border Markets and our First Tajik Wedding
It's Friday afternoon, 4:30 pm and a colleague mentions, by-the-way, that Monday is a holiday as Constitution day falls on Saturday, 6th November. A long week-end with places to go and things to see!! To hell with a two week pile of unwashed clothes! Here in Khorog, every Saturday morning there is a cross-border market, which is the closest we can get to actually visiting Afghanistan.
At 10 am Jelte, Rod and I hail a 'cab' and for the price of just one Somoni each (the equivalent of 30c or 20p) we share a 'golf cart' – commonly known as a Chinese van – with 4 other passengers to take us to the site of the cross-border market. When we arrive, things are just beginning to come alive.
We wander around the few stalls of fruits and clothes and odds and ends. Jelte and Rod sit down to breakfast of 'choi' and bread with Halva. Christine is too busy watching one of the stall owners cook 'pilav' on an open fire.
Within half an hour the market-place is teeming with vendors and shoppers; Afghanis and Tajiks and the odd smattering of foreigners (apparently in the city of Khorog – pop: 30,000, there are a grand total of 20 odd 'expats').
Also present, but not in any way threatening, are Tajik police, busy taking photos of themselves and each other. We suspect they are there to keep an eye on the Afghani merchants, who, by the way, look distinctly different from their Tajik neighbours. Beautiful, strong faces and distinctly different clothes, many barefoot on their 'stalls' which are just pieces of canvas or cloth laid out on the ground with their wares displayed. The Afghanis are the ones who sell the exotic spices and used American boots.
So, our American friends, you know where your tax money goes!! Funny thing; Tajik food is not a culinary delight so we look across the border to be supplied with turmeric, cloves, cinnamon, cardamom, screw-pine (bet you've never heard of that), ginger root, pepper corns and a host of other totally unrecognizable spices and ground minerals.
On the way back we stopped at the regular 'bozor' and stocked up on the usual Tajik staples, dried fruit, dried nuts, lentils, rice, beans, and cheese and bread for the next day's hike. The local cheese here is the North American equivalent of cheez whizz which I had never tasted until arriving here in Khorog.
Since we arrived, with the exception of just one day of rain, each day has been much like the previous – blue, blue skies, with bright sunshine. The valley traps the heat and by mid-day it's in the high 60s. Beautiful! And perfect for hiking. Sunday, we are off to Bogev, a neighbouring valley just 15 km away, which has been recommended by expat 'Bo' an avid mountaineer and climber.
The culmination of the climb is an ancient Zoroastrian fire temple, probably @ 2,800m above sea level. The climb was steep and more challenging than we thought. So Christine chickened and hung out on a convenient ledge while Rod and Jelte scaled further to the top of the mountain. Their reward was sighting a couple of grey foxes and incredible views. After our lunch of bread, cheez whizz , dried apricots and pears we made our way down into the valley, to a little village and stumbled upon a wedding party.
The Tajik hospitality is legendary and after introductions to the family of the bride we found ourselves in a traditional Pamiri House, celebrating our first wedding, surrounded by friends and family who were preparing for the evening's celebrations. In spite of this, they took time to spread a feast for us and provided us with live entertainment to which we all danced and celebrated.
We can't say we were not warned about the proliferation of Tajik weddings. Our co-volunteer, Jeremy, who we met in Dushanbe, said he clocked up 72 wedding attendances in 18 months of living in this country.
So far, every outing has been full of wonderful surprises, especially the Tajiks. We have never felt so safe and welcome in a foreign country; and we don't even speak any of the languages … yet.
There's more to the long weekend but, we'll leave that to our next blog, when, we suppose, we should write something about our work…..
50 Romantic Things to Do for Your Wife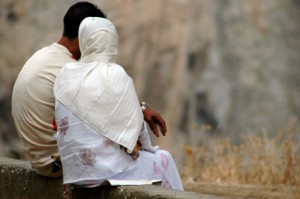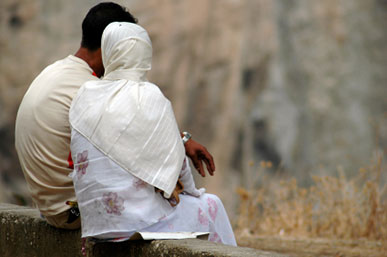 These ideas for romantic things to do for your wife were all suggested by real wives. Some are expensive, while others cost nothing at all.
No matter your budget, there's always something you can do to make your wife feel special!
In no particular order:
Take your wife on a drive to a place where the two of you can watch the sunset together. Make sure you hold her hand or put your arm around her.
Give her a back rub or massage.
Make her a handmade bookshelf (or buy it if you prefer, but making things by hand is always romantic). Fill it with books you know she will love – either books she already owns, or new books that you buy for her – and set it next to a snug loveseat sofa just for her. On the other side of the sofa put a small tea table. It will be her special place to relax when you're not home (or when you're watching the football game).
Give your wife a gift when she least expects it, even if it's something small.
Surprise her with a dream vacation. Make all the arrangements (babysitters for the children, plane tickets, hotel reservations), so that all she has to do is pack a bag. Imagine how thrilling it would be to say to her, "Honey, pack your bag, we're going to Paris tomorrow)… However I must add two caveats about this one: First, if she works, let her know about the trip well in advance so she can arrange time off from work. Secondly, know your wife's personality. If she needs time to mentally prepare for new things, then plan the trip accordingly.
Make her dinner and have it cooking in the oven when she gets home from work. If you don't know how to cook, take a cooking class and learn!
Bake her a favorite pie, or make her a cake and decorate with a message of love.
Write her a poem.
If you're hopeless when it comes to writing poetry, hand-copy a famous love poem onto a card, and write, "This is what I would write for you if I had the words."
You can never go wrong with a hug.
Have a bouquet of flowers delivered to her at an unexpected time, along with a love note.
Write your wife a letter listing the things for which you feel grateful to her.
Write a book and dedicated it to her.
Write "I love you" on the bed in flower petals.
Leave a small wrapped gift under her pillow – for example a piece of jewelry.
Buy her a day at a spa where she can be pampered with a facial, massage, manicure and pedicure, etc.
Dress her.
Undress her.
Brush her hair.
Take her bungee-jumping or skydiving.
Whisper something loving in her ear when you're in public.
Blindfold her and kiss her all over her body.
Look deeply into your wife's eyes and tell her how beautiful she is to you.
Put a love note in her pocket for her to find.
Read to your wife.
Pray with her.
Sing to her.
Dance with her.
Write her a love letter and draw a flower on the envelope. Take your time and draw something really nice. If you can't draw, trace it from a magazine photo.
Let your wife sit on your lap.
In winter, make love in front of a roaring fire in the fireplace.
Carry your wife to bed.
Call her from work during the day to tell her you love her (just be careful – if you're calling her at her workplace, make sure that it's not going to get her in trouble with her boss).
Lie together in the backyard (or any secluded, peaceful place) and watch the stars.
Take a bubble bath together.
Kiss your wife lightly just below the ear, and then whisper, "I love you."
Buy her a ring. It doesn't have to be an expensive ring, just something pretty in a style she would like.
Speaking of buying gifts, pay attention to what she likes. When you're out together and she sees something in a window and says, "Oh, that's lovely," make a mental note, and when you get home, write an actual note in a notebook do you don't forget. On a special occasion, buy it for her.
Go camping together in the woods or the mountains, just the two of you.
If you're on a business trip, call her often to chat (even if only for a few minutes) and tell her you miss her.
Know that she needs time with her friends just like you do, and be nice to her friends (without being flirty of course).
Learn from her, and let her know that you do.
Make sacrifices for her.
Learn to say sweet things in foreign languages, including sign language.
Defend her when someone says something unkind about her, no matter who it is.
Go go the playground and swing on the swings as if you were still teenagers. Just remember to get up if a real kid wants the swing, ha ha.
Exercise together. This can be great fun and is a good bonding experience.
Go shopping for her, wash the dishes, clean the house (including the bathroom). Share the chores, and some days just do them all.
Draw a picture for her of some pretty nature scene (it's okay if you're not artistically talented, just do your best) and write some sweet caption beneath, like, "You are as beautiful as a sunset. I love you."
Tell her every day what you love about her. Be specific and mention actual things that you appreciate about her.
This post has been very popular, so I have just added:
Love for your partner what you love for yourself
Imam Zaid Shakir writes:
As Salaam Alaikum,
To summarize the duties of brotherhood and sisterhood in Islam, we should love for our brother and sister what we love for ourselves.
This is an incredible teaching that if implemented would go a long way towards improving relations between us. This spirit of love is especially important between husbands and wives, as we often treat each other as abstract enemies as opposed to Muslims, first and foremost.
– Imam Zaid Shakir
This is an excellent observation and insightful piece of advice. Many of us are familiar with this hadith but have not thought of it in terms of husband and wife.
When we want for our spouse what we want for ourselves, it takes our marriage to a new level of love. We begin to think about our partners needs and wants, we pray for our partner just as we pray for ourselves, we work for our partner's material and spiritual success as much as our own.
We also forgive them for their mistakes just as we would hope to be forgiven. We praise them for the good they do, thank them, hug them, and when they need it we correct them in kindness. That's love, and it's what a good marriage is made of.
Islamic Marriage Khutbah (Wedding Speech)
This is a typical Muslim nikah khutbah (wedding speech) that would be given by an Imam at a Muslim wedding. This particular speech was translated from Arabic, I believe. I do not know the author's name:
Wedding Khutbah
"Thanks be to Allah that we praise Him, pray to Him for help; ask Him for pardon; we believe in Him, We trust Him; and ask Him to guard us from the evil of our own souls and from the evil consequences of our own deeds. Whomsoever He leaves straying no one can guide him. I bear witness that there is no God save Allah, who has no partner, and I bear witness that Muhammad is His servant and messenger, whom He has sent with truth as a bringer of good news and a warner.
The best word is the book of Allah, and the best way is that of Muhammad, on whom be peace. The worst of all things are innovations and every innovation leads astray, and every thing that leads astray leads to Hell.
Whosoever obeys Allah and His messenger will be guided aright and whosoever disobeys will cause loss to his own self (and thereafter). Hereafter, I ask the refuge of Allah from Shaytan, the outcast.
O mankind! Be careful of your duty to your Lord who created you from a single soul and from it created its mate and from them twain hath spread abroad a multitude of men and women. be careful of your duty towards Allah in whom you claim (your rights) of one another, and toward the wombs (that bear you). Lo, Allah hath been a watcher over you. [Surah Al Nisa' 4:1]
O ye who believe! Observe your duty to Allah with right observance, and die not save as those who have surrendered (unto Him). [Surah Ali 'Imran 3:102]
O ye who believe! Guard your duty to Allah, and speak words straight to the point; He will adjust your works for you and will forgive you your sins. Whosoever obeyeth Allah and His messenger, he verily hath gained a signal victory. [Surah Al Ahzab 33:70-71]"
Marriage is one of the most important acts of worship in Islam. The Prophet Muhammad (Sallallaahu layhi Wasallam) has told us how to live as Muslims. One of the branches of faith is marriage. It has been thus narrated in a Hadeeth that when a person marries, he has complete half of his religion and so he should fear Allah regarding the remaining half.
Shame, modesty, moral and social values and control of self desire are just a few of the many teachings of Islam. Furthermore, these are just a few of the many worships that a person can complete by performing the ritual of marriage. Through marriage a person can be saved from many shameless and immoral sins and through marriage he has is more able to control his desire. Therefore, the Prophet (Sallallahu Alayhi Wa Sallam) has said:
"O young men! Whoever is able to marry should marry, for that will help him to lower his gaze and guard his modesty." [Sahih al-Bukhari]
Marriage is a strong oath that takes place between the man and women in this world, but its blessings and contract continues even in Jannah. It is the way of our beloved Prophet (Sallallahu Alayhi Wa Sallam), and whosoever goes against this practice has been reprimanded.
Hadhrat Anas ibn Malik narrates:
A group of three men came to the houses of the wives of the Prophet (Sallallaahu layhi Wasallam) asking how the Prophet worshipped (Allah), and when they were informed about that, they considered their worship insufficient and said:
"Where are we compared to the Prophet as his past and future sins have been forgiven?"
Then one of them said: "I will offer the prayer throughout the night forever."
The other said: "I will fast throughout the year and will not break my fast."
The third said: "I will keep away from the women and will not marry forever."
Allah's Apostle came to them and said, "Are you the same people who said so-and-so? By Allah, I am more submissive to Allah and more afraid of Him than you; yet I fast and break my fast, I do sleep and I also marry women. So he who does not follow my tradition in religion, is not from me (from my followers)." [Sahih al-Bukhari]
Therefore, Islamically, we are all encouraged to get married and not turn away from the ways of our beloved Prophet (Sallallahu Alayhi Wa Salaam). It should be remembered that this duty of marriage is for both men and women. Just as men complete half their religion through this act, it is also the same for women. However, in today's time, there are many marriage-related issues which arise in people's lives, as today we see many people abusing the laws of marriage in Islam.
When marrying, each becomes the other's lifetime companion. Each should understand and appreciate that Allah has brought them both together and that their destiny in life has now become one. Whatever the circumstances: happiness or sorrow; health or sickness; wealth or poverty; comfort or hardship; trial or ease; all events are to be confronted together as a team with mutual affection and respect.
No matter how wealthy, affluent, materially prosperous and "better-off" another couple may appear, one's circumstances are to be happily accepted with qanã'at (contentment upon the Choice of Allah). The wife should happily accept her husband, his home and income as her lot and should always feel that her husband is her true beloved and best friend and well-wisher in all family decisions. The husband too should accept his wife as his partner-for-life and not cast a glance towards another.
Allah's Messenger (Sallallaahu layhi Wasallam) said, "The best of you is he who is best to his family". (Mishkat)
It was the noble practice of Nabi (Sallallaahu layhi Wasallam) to counsel spouses about the awareness of Allah before performing a Nikah by reciting the verses (Nisa v14, Ahzab v69, Al-Imraan v101) from the Quran. All the verses are common in the message of Taqwa (consciousness of Allah). The spouses will be first committed to Allah before being committed to their partner. There can be no doubt in the success of a marriage governed by the consciousness of Allah. I hope and wish every person a very happy and prosperous married life. May peace and Allah's blessing be upon you.
Conversations with a Pregnant Wife, Part 2: Watch Out, She's Moody!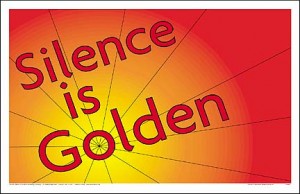 Part 1: Honey, I Have a Craving!
Part 2:  Watch Out, She's Moody!
Part 3:  What's in a Name?
By Yasser Aboudouma
Writer, Civil Engineer – Egypt
The first three months represented one-sided arguments, morning sickness, and food cravings. The following three months of pregnancy are like a walking through a minefield, with more one-sided arguments and weight gain. The husband has to expect a lot of warning messages that reflect the pregnant wife's mood, not helped by the fact that she has a career.
Month Four
Wife: See? As I told you before, you have to stop defending them.
Husband: What happened?
Wife: The meeting today! The attendees have not given me my prestige even though they knew about my pregnancy.
Wife: Imagine, once I entered the meeting room, just five people stood up, and the others didn't care.
Husband: WHAT! You had the chance to choose between five seats!
Wife: NO, all people have to stand up and let me choose where I want to sit.
Wife: I'll ask the manager to limit the meeting for three to four people max.; a congested room is not good for my pregnancy.
Husband: Why do you bother? You know, why don't you ask him to cancel all meetings!
Wife: Poor me, you're always mean to me. Even one girl felt sorry for me and let me sit beside the window, and she opened the door too!
Husband: That's not fair for them.
Wife: What! You're worried about them and not me? Men!
At this stage of pregnancy, all husbands have to learn how to control their temper and be patient. A little piece of advice for husbands: Don't try to get involved in any arguments with your lovely, pregnant wife! It's useless, as the argument will end with accusations as if you're the reason for all the destruction and wars in the world! You have to learn that if speech is silver, then silence is solid gold.
Month Five
The fifth month means a lot of activity, so don't be surprised if your wife starts to become more active and looks for extra work to do. As the baby starts growing, the pregnant wife starts getting less sleep and, normally, she won't accept that you sleep while she doesn't! Husbands, don't be scared when your wife wakes you up in the middle of the night with a certain look on her face. In fact, the look is telling you something.
Wife: HURRY! Wake up!
Husband: What is it? What's wrong? Are you sick? Did you hear something? Did someone call? Is there a thief in the house? Is there a fire in the neighborhood?
Wife: No, nothing like that! I just wanted to tell you that I felt the baby move.
Husband: (horrified) WHAAAAAT! You woke me up at — what time is it? – 3 a.m. to tell me that! I have to go to work early tomorrow morning, and I can feel the baby in the morning.
Wife: (looking hurt) You don't like me or our baby. I thought you'd like to share with me these moments.
Husband: OK, OK, let me feel the baby.
You can spend the rest of the night waiting to feel the baby move, which never happens! It's normal. Simply, say you can feel it and make your life easier.
The pregnant wife normally feels that she needs care and attention, so be ready to expect any weird request, at any time!
Husband: Honey, I'll take a nap until the food is ready.
Wife: WHAT! You want to go and rest while I stand in the kitchen preparing food instead of coming to give me a hand? OK, your highness! Where is the UN, human rights organizations, and gender equity rules?
Husband: OK, OK, I'm coming. I'll give you a hand; sorry.
Of course, your help will start by washing the raw vegetables, and you'll end up preparing everything while your pregnant wife takes her nap!
Wife: Honey, you can leave the dishes and I'll put them in the dishwasher after I take a nap, but if you insist, it's OK.
Husband: (vexed) OK, honey, I'll put them.
Wife: Fine. Could you bring a glass of water with you. If you prepare tea for yourself, don't forget my cup.
Husband: Ummm, but you said you'll take a nap!
Wife: Yeah, I will after I drink my tea. While you're waiting for the water to boil for the tea, please put the clothes in the washing machine. Plus, there are clothes that need to be folded. Can you do it? I'm very tired.
To all husbands: Be careful of that word, "honey." It's usually followed by "do that" or "don't do that"!
Month Six
With the sixth month comes the weight gain — around 15 kg in the beginning! The pregnant wife is forced to replace her normal clothes with larger sizes. She starts feeling the baby move, and gets disappointed with what she is beginning to look like.
Wife: Why are you smiling like that? Haven't you seen a pregnant woman gaining weight before?
Husband: (trying to hold down his laughter) Of course not. You look the same, but why do you walk like that?
Wife: I'm pregnant; have you forgotten or what?
Husbands, don't expect the lady you married to remain the same girl who likes to share in your thoughts and/or life difficulties. Their focus changes, and as pregnant women they always like to talk about the pregnancy, and they don't intend or desire to talk about anything else.
Wife: I read online that in the West pregnant women deliver their babies without anesthetics, and sometimes it happens when they're sitting or swimming in a pool. I'll check with my doctor to see about the possibility of doing the same.
Husband: Honey, you're still in your sixth month, and remember that you're in Egypt, not in the West. Tell me first, do you spend all your working day searching for information about pregnancy on the Net? Sweetheart, I tell you what, let's forget about that now, I need to eat.
Wife: I'll prepare something special today. Just go and sit in front of the TV until I finish.
(A couple of hours pass.)
Husband: Honey, where's the food?
Wife: It's not ready yet, it's only 10 p.m., why are you in a hurry?
Husband: Honey, you think 10 p.m. is still early? Let's eat anything, even some cheese.
Wife: (now mad) You're a typical Middle Eastern man; there's no appreciation whatsoever for my effort! Just for your information, my close friend never cooked anything throughout her pregnancy and up until four months after she delivered the baby.
Husband: So what did they eat for the year?
Wife: (in a low voice) Her husband was out of the country for a year, and she stayed at her parents' house.
A wise man once said that parents who failed to raise their son properly shouldn't worry, the wife will certainly do the job!
Part 1: Honey, I Have a Craving!
Part 2:  Watch Out, She's Moody!
Part 3:  What's in a Name?
***
Yasser Aboudouma is an Egyptian-Canadian who lives between Cairo and Ontario. He holds a B.Sc. in engineering and a diploma in project management. He is interested in issues of social and cultural differences.
L.A.'s Volunteer Muslim Matchmaker
His matches have sparks of tradition
Mohammad Mertaban is a volunteer matchmaker who helps observant young Muslims searching for a modern path to marriage that stays true to Islam.
By Raja Abdulrahim, Los Angeles Times
September 23, 2011
The one-line email that greeted Mohammad Mertaban came straight to the point.
"Mertaban, find me a husband, k? I await your list of potential suitors," wrote a woman who lives on the East Coast.
Mertaban was not surprised, although he knew the woman only slightly. "If it comes from a brother or sister whom I don't know very well, I know that she would do it out of frustration, desperation or a strong desire to get married," he explained later.
An information technology project manager who lives in Fullerton, Mertaban, 30, has grown accustomed to urgent requests — by phone, email and in person — since he began dabbling in matchmaking for friends and acquaintances about eight years ago. Those he helps are observant young Muslims searching for a modern path to marriage that stays true to Islam.
American Muslims regularly speak of a "marriage crisis" in their communities, as growing numbers of Muslims reach their late 20s and early 30s still single. Young religious Muslims tend to avoid Western-style dating, but many also reject the ways of earlier generations, in which potential spouses were introduced to one another by family.
Traditionally, in South Asia and the Middle East, older women — often called the "aunties" — and parents recommended matches by drawing upon their extensive networks of family, friends and acquaintances. Marriage criteria were typically limited to religion, ethnicity, jobs and looks. But in the U.S., their little black books of contacts are significantly thinner and many second-generation American Muslims see such methods as decidedly old-world.
So, many turn to young volunteer matchmakers like Mertaban, who have connections in their hometowns, college circles and vast online networks.
"The aunties don't really know people very well and I think they're just shooting in the dark," said Mertaban, whose parents emigrated from Lebanon. "I think people have veered away from that."
Amir Mertaban, Mohammad's younger brother and a matchmaker as well, said the goal was "to keep this as close to Islam as possible. I'm trying to get people hooked up, but we're trying to do this in a halal (permissible) manner."
::
What is and isn't allowed is debated within the Muslim community. But those who seek a matchmaker's help tend to steer clear of anything resembling dating and to avoid meeting one another without a chaperone. And even though they may see their parents' methods as too traditional, they are still more comfortable seeking help from a go-between than online matrimonial sites or singles' events held at mosques under the guise of "networking."
Mertaban, who is lively with a quick laugh and a wide, almost Joker-like smile, says he didn't choose to be a matchmaker but fell into the role after he helped a number of friends.
He grew up in Diamond Bar and has lived in Los Angeles, Irvine and Fullerton — where he is now a youth mentor at the area mosque — which helped him establish a wide Southern California Muslim network.
In his senior year at UCLA, Mertaban was president of the campus' Muslim Student Assn. and the following year he was president of MSA-West, an umbrella group covering much of the West Coast. With chapters at universities nationwide, it has jokingly been called the Muslim Singles Assn.
He was well-liked and known for making other students, especially freshmen, feel welcome. Many turned to him for advice about their problems.
"He's a leader… everybody trusts Mohammad," said Lena Khan, 26, an independent filmmaker who attended UCLA with Mertaban. "If you need something at 2 a.m., you know Mohammad is happy to help you."
In a community that observes a certain level of gender segregation, Mertaban, because of his leadership roles, interacted regularly with both men and women. Soon, students began asking him for help finding potential mates.
His first attempt involved one of his best friends, of Palestinian descent, and an Indian woman the man was interested in. It didn't work, partly because of their different ethnicities — a cultural lesson Mertaban now keeps in mind when suggesting pairings. He organizes his lists of single men and women by nationality.
The "Single Sisters" directory on his laptop begins with a 28-year-old Afghan woman and ends with a 25-year-old Syrian. In between are almost three dozen women, ranging from their early 20s to early 30s with details such as "Algerian only" or "wants to marry an Egyptian dr, mba or engineer." Other notations include "not hijabi," referring to women who don't wear a head scarf.
His "Single Brothers" list, which is kept separate, is longer.
Mertaban, who has been married since 2005 and has two young daughters, said he has become well known as a source of reliable information about single Muslims — perhaps too well known. "I'll get random emails from people that I've met once," he said. "And sometimes it's just really overwhelming and I don't want to take these cases on."
At a recent Muslim conference, Mertaban volunteered at the information booth of a relief agency with projects in the Middle East and Africa. But some at the conference still wanted to talk matrimony.
A man from Northern California stood awkwardly beside Mertaban, saying, "Maybe you can mention potentials" as young women walked by. The man, whom Mertaban had previously tried to set up but without success, stayed at his elbow as conference-goers browsed through religious books and other materials. Too polite to mention his discomfort with the request, Mertaban escaped only when the call to prayer was made.
He had greater success with Khan, the filmmaker. On Valentine's Day 2008, he called to say that a friend, Ahmad, was interested in her. For a few weeks, Khan peppered Mertaban with questions about her suitor.
Mertaban told her that Ahmad was devoted to his prayers and very involved in volunteer activities, both of which were important to her. He helped fill the gaps in a courtship that took place mostly over the phone, Khan said.
"Mohammad told me he was funny and it would have taken me forever … to find out because he's not going to start busting out jokes on the phone with a girl he wants to marry," she said. "If you want to know about a guy, you need someone like Mohammad."
She and Ahmad were married 10 months later.
Twice previously, Khan's parents had entertained suitors for her — young men and their parents — and both efforts ended the day they began. "It's just not as fruitful," she said.
::
Even though Mertaban is a new-style matchmaker, his methods are relatively conservative. He is wary of suggesting matches for couples of different ethnicities and he declines to help any man who doesn't plan to approach the woman's father first for permission.
"I mean guys and girls shouldn't be talking freely," he said. "If you have the intention of getting married, the parents need to be involved."
Sounding not unlike an "auntie" himself, he says those interested in marriage need to decide if they are compatible as a couple before emotions get in the way. He was introduced to his wife, Ferdaus Serhal, by his older sister who had worked with Serhal at a mosque. The couple emailed and spoke on the phone for two months before their families met.
Now he often consults with Serhal to get her opinion on a young woman or a possible pairing. He has matched eight couples who married and has about half a dozen more in progress. Still, he says he spends too much time counseling men with unrealistic expectations.
Two days after he ran into a college friend, Mertaban got a call from the man. They spent time catching up, and then the man volunteered that he was struggling to find a wife. Mertaban asked what he was looking for.
"He said he wants a girl with beautiful hair, tall, slender body and he wants her to have really pretty eyes and on top of that, get this, he wanted a girl who would not talk back to him," the matchmaker recalled. "I thought this is not worth my time, this guy needs a lot more maturing."
But he felt obliged to say something. He told the man, a doctor, that his criteria were unrealistic and noted that the prophet Muhammad encouraged men to marry women for their faith and character. He tried to be sensitive, knowing that asking for his help can be a humbling experience.
The man seemed to understand, but at the end of the conversation he just reiterated his requirements.
Mertaban hung up feeling frustrated.
55 Ways to Have a Happy Marriage
~*~55 Ways to Maintain a Happy Marriage~*~
(Zawaj.com Editor's Note: this is based on an article that was published on a few Muslim forums with no author given. I've edited it so extensively, correcting mistakes and clarifying many points, that it's essentially a new article.)
Marriage is a highly recommended Sunnah of Prophet Muhammad (sws).
The purpose of marriage in Islam is to increase the Muslim community and not only to enjoy pleasure as the Messenger of Allah (sws) said; "Multiply your wives, multiply your children and I shall be proud of you on the Day of Judgement."
Although marriage is encouraged in Islam, Allah and his Messenger Muhammad (sws) haven't left us to our rationality to discover what marriage entails and what things make a successful marriage. The following points highlight what makes a happy marriage based on the Qu'ran and Sunnah and how the husband and wife can gain each others heart.
Hadith: [Collected in Bukhari, Muslim and Musnad Imam Ahmed].
Abdullah ibn Masud narrated: "We used to sit with the Prophet (sws) and we didn't have much money. He (sws) said 'Whoever can marry should marry, it will help him lower his gaze or (if he cannot) he should fast."
[Al-Qur'an 4:03] "And if you fear that you will not be able to deal justly with the orphan girls then marry (other) women of your choice, two, three or four; but if you fear that you will not be able to deal justly (with them), then only one, or those that your right hands possess. That is nearer to prevent you from doing injustice."
[Al-Qur'an 24:32] "And marry those among you that are single and (also marry) the Salihun (pious, fit and capable ones) of your male servants and female servants. If they be poor Allah will enrich them out of His bounty. And Allah is All-Sufficient for His creatures' needs, All-Knowing (about the state of the people)."
1. Time apart.
Short separations (hours or a few days) will strengthen the marriage but long separations can weaken the relationship.
• As they say 'absence makes the heart grow fonder.'
2. Understand each others' fitrah.
The fitrah is the natural disposition of a person, e.g. Allah has created man and women with certain qualities that are innate in them.
• The hadith of the Prophet Muhammad (sws) states that "Every person is born on a state of fitrah, it is their parents that change them to a Jew, Christian or Fire worshipper." (Al Bukhari and Muslim). Both the husband and wife must try not to challenge each others' fitrah but to adjust to and accommodate the partner's God-given nature.
3. Solve disputes on the same day.
• Hadith: Prophet Muhammad (sws) said ; "Don't let disputes stay until the next day but solve them the same day."
• Shaytan is always there to cause fitna for people especially between the husband and wife so it's important not to let disputes last longer than a day otherwise small issues will seem very big.
4 Don't speak about your past!
• Islam forbids speaking about the sins you committed during your jahilliyah days (the time before practising Islam).
5 Don't expect perfection – live your lives naturally.
• Hadith: A couple came to Prophet (saw) and said 'we make mistakes' and He (saw) said 'you are not perfect'.
• Always evaluate problems honestly and don't expect miracles.
6 Convey your love and warm feelings to each other.
• Hadith: "You must express yourself to your partners"
• The wife of the Prophet Muhammad (saw) said: "The Prophet (saw) never let a day pass without showing his affection."
7 Fight against your own problems and don't share anger with your partner.
8 Do not be critical of each other.
• Hadith: Prophet (saw) said "Do not be critical". All type of criticism is forbidden in Islam.
• Islam allows certain type of lying in order to maintain a good relationship e.g. complementing on the wife's cooking even if it doesn't taste nice!
9 When disputing with your partner don't expand the argument by adding all other previous disputes.
• Hadith: Prophet (saw) said "Dare any of you who sleeps with his wife in the night and then critises her in the morning."
10 Never doubt your partner,
• Doubting each other can lead to the destruction of the marriage
11 Trust your partner and show you have full confidence in them.
12 Pick a suitable partner for yourself but also make sure that you are also compatible for your partner.
• Hadith: A man came to the Prophet Muhammad (saw) after seeing a woman for the purpose of marriage and said 'She is of good Deen but her father refuses' He (saw) replied 'did you look to yourself?' (This man never went for jihad or was see among the men of Medina ). The man replied 'Ya Rasuallah, verily you have spoken the truth".
13 The main pillar to maintain good relationship between the husband and wife is purity hence cleanliness of body and house etc is important.
• Once a woman complained to the Prophet (saw) about her husband's bad odour.
• Hadith: The Messenger Muhammed (saw) said "None of you who believe in Allah, spits and covers it."
14 You need to sacrifice to maintain relationship.
• Hadith : The Messenger Muhammad (saw) said; "Sacrifice is the best gift between the husband and wife."
15 ADVISE FROM A SAHABIYAT TO HER DAUGHTER;
• "Care about your husband like you care about yourself and love for your partner what you love for yourself."
• The Messenger Muhammad (saw) will never eat before his wives as mentioned in a hadith " The best amongst you is the one who raises the food and feeds his wife."
16 Give your partner gifts.
• Exchanging gifts will cause more inclinations towards each other and strengthen the relationship.
17 Don't be selfish!
• Give and take, don't always take.
18 Don't accuse your partner for problems e.g. by saying 'You did it' or 'it's your fault.'
19 Live for the day and don't worry about tomorrow.
• Allah knows whether or not you are going to wake up in the morning!
20 Always remember that marriage is a divine bond, so think twice before doing something on the impulse which you will regret later.
• Hadtih: The Messenger Muhammad (saw) said; "Three things that are serious; marriage, divorce and freeing the slave."
21 Although love is an essential part of marriage, do not take it for granted and abuse each other thinking that your partner will always love you regardless of ill treatment.
22 Be an example to your partner and let your actions tell and convey your personality.
• Hadith: Muhammad (saw) said; "To change your partner the way you wish, be the model for them."
• Hadith: "Pray Qiyaam with your wife."
• Hadith: Once Fatima (ra) the daughter of the Prophet Muhammad (saw) asked 'How can I be closer to Ali (ra)?' He (saw) replied 'Pray Qiyaam ul-Layl with him and whenever he wakes up, wake up with him.'
23 Do not let parents, relatives or neighbours interfere with your marriage.
• Try to reconcile between yourselves as much as you can and if that's not possible than allow a trustworthy Muslim to arbitrate.
24 Don't rush into correcting differences which you perceive in your partner. There are some matters that can only be changed with time.
25 The couple must both accept the consequences and responsibilities that marriage brings and be satisfied.
26 Do not embarrass or humiliate your partner especially in the presence of other people.
27 Participate in collective activities together.
• Co-operating with each other will bring a sense of family life e.g. Picnics, BBQ, dawah projects etc.
• The Prophet Muhammad used to do collective things with his wives.
28 Do not look down to your partner or ridicule their capability rather let your partner express themselves.
• Hadith: The Prophet Muhammad (saw); "The good husband is the one when the speaks he listens and when she complains he is concerned."
29 The financial right (Naafaqah) of the wife is something serious and her husband must fulfil it.
30 Do not share your sadness and misery with your partner rather exchange jokes and laughter.
31 Do not allow your friends to interfere in your marriage.
• Aisha (ra) the wife of Muhammad (saw) once said to the women of the Ansar "Watch out! Do not give room for your friends to interfere in your own privacy."
• Part of a man's fitrah is that he has the right of authority in the family as the head of the household and also that no one should know about his affairs.
32 Let your husband feel that you are content with him and that you are proud of him.
• Hadith : Muhammad (saw) "Do not compare your husband with another man and don not compare your wife with another woman."
33 During times of disputes remember the goodness of your partner.
• Hadith: Muhammad (saw) said; "The good deed abolishes the bad deed"
34 Abu Bakr (ra) said: "In order to understand the character and goodness of your partner, and to fight defection, remember;
• What you like about your partner?
• What happy experience has passed you two?
• What things you did together?"
• Umar bin Khattab (ra) said: "The good man is the one who makes his partner like him and appreciate him."
35 Be careful not to use abusive words during times of disputes.
36 Have celebrations with the family.
• The Prophet Muhammad used to encourage his daughter Fatima (ra) and Ali (ra) to celebrate with their children.
37 The intelligent wife is the one who asks her husband for things at the right time e.g. don't ask for a expensive dress if you know he can't afford it!
38 Hadith: The Prophet Muhammad (saw) said ; "Three things that should not be used My dignity, My status, My pride."
39 Do not abolish the presence of your partner. Always have consult your partner, even if it's for small issues like grocery shopping.
40 Do not run away from home!
• If you want to discipline the wife for doing something sinful then separate from the bed but don't leave home.
• Hadith: The Messenger Muhammad (saw) said; "Don't run away from home"
41 Do not anger your husband by asking too many unnecessary questions and vice versa.
42 Do not desert the husband at home.
• Umar bin Khattab disciplined a woman for that and said to her; 'Are you a woman or a man?'
43 Do not exchange roles!
• Allah (swt) has clearly defined the rights and responsibilities of the husband and wife hence it is not proper for us to swap them. A woman must remember even if she is working, her husband, children and home would always come first.
44 Respect the In-laws.
45 Hadith: The Prophet Muhammad (saw) said; "Honour your mother in-law and call her by the best names (according to the tradition)."
46 Don't let the neighbour interfere.
• Hadith: The Prophet Muhammad (saw) said; "Look after your neighbours and participate with them in happiness and sadness and always command them to obey Allah."
• Disclosing family secrets is not participating in sadness!
47 Be careful not to have disputes frequently, it will jeopardise the relationship.
• Learn to sacrifice in issues of permissibility in order to maintain tranquillity.
48 Always establish quietness, calmness and tranquillity in the home.
49 Do not interfere with your partner when they are disciplining the children except in an emergency where your partner is violating the shari'ah.
50 Look after your children and maintain a high standard of upbringing e.g. clothing, feeding etc.
51 Listen to your husband and try not to forget to do things for which he has asked you to do.
• Hadith: The Prophet Muhammad (saw) said ; "Teach your wife the chapter of An-Nisa, Al-Maida, An-Nur (from the Qu'ran)."
52 Shari'ah must be the centre of your lives and obedience to your husband is one of the means to Jannah.
53 Remember that Allah will always test you and there will be times that you may have domestic problems but remember every problem doesn't mean the end!
54 Avoid arguing with each other especially in front of children.
55 The wife should not allow anyone to enter her home without the permission of her husband.
Look Beyond the Packaging: How to Choose a Husband, Wife or Friend
By Wael Abdelgawad | Zawaj.com
Is his hair nicely styled? Is he the perfect height?
Is her makeup just right? Does her body have the perfect curves?
This is packaging, it's irrelevant.
American, Pakistani, Mexican, Egyptian, Bengali, Indonesian, black, white, brown, this is a veneer. It's unimportant in the long run. When you're sick and battling to recover, it's not an American who holds you and tells you that it will be okay, who makes you chicken soup with lemon and ginger… It's a human being, a husband or wife who loves you.
We must get beyond superficial and meaningless classifications like race and nationality.
Does he wear Armani suits cut just right? Are his shoes sleek and shiny? Does her clothing drape elegantly on her figure?
You know what? That Armani suit can't stand on its own. It needs a hangar just to stay upright. That elegant clothing can't raise your children right.
We must learn to look beyond appearances. I'm not saying that appearance is irrelevant, but how much of our attraction is based on true human beauty, and how much is based on distorted standards and poisonous imagery pumped into our brains by TV, movies, advertising, magazines and billboards? In other words, to what degree have we been brainwashed?
The world of advertising teaches us to focus on the wrong things. Consultants are paid millions of dollars to design the perfect package for a box of cereal or an energy drink, just the right shape and bright color to catch your eye and entice you to buy. Meanwhile, the product – as often as not – is actually bad for you, consisting of empty calories, sugar, chemicals and dyes. They are teaching us to make choices based on packaging and image, and what they are teaching us is entirely ruinous and wrong.
Human beings, however, are not consumer products. We're not disposable. When you marry someone you're in it for the long haul. You're with them when they wake up in the morning with crust in their eyes and hair stuck to one side of the their head; when they get laid off from their job and you don't know how the bills will get paid next month; when they're depressed, tired, sick; when they make mistakes, when they say and do the wrong things, when they lose their temper, when they're afraid or insecure…
This is as serious as it gets. This is life, and the right package won't get you through it, won't help on you the path, won't hold you up when you're weak, or put a smile in your heart when you're down. The package can't do that. Remember that when you buy something, the package ends up in the trash. If you choose someone for the package only, you may be bitterly disappointed when the storm comes and no one is there to keep you safe.
These are lessons learned through heartache and disappointment. These are lessons I have learned.
Look deeper. Find a gentle heart, a strong backbone, a striving spirit. Look to what the person does, how they live, how they treat people, how they relate to the Almighty. Look to that shimmering soul inside, and discern whether it's a selfish and bitter soul, or loving and true. Look beyond the packaging to the person inside, and trust your fitrah-based instincts, and you'll find yourself a rare happiness, and a precious partnership.
The most beautiful, powerful things in the world don't come in packages. Mountains, trees, ocean, sky, stars… their true attributes are bared to the world. They don't need packages because they are beautiful and profound in their essence.
By basing your life choices on matters of substance, you'll avoid social and financial traps that ruin so many. You'll build friendships as real and solid as mountains, with people you can trust with your honor, your heart and your life. You'll do work that matters, and leave a legacy that improves people's lives in unforgettable ways.
In Vitro Fertilization in Islam
Ruling on in vitro fertilization, or egg donation, in Islam
Reprinted from IslamOnline.net
In the Name of Allah, Most Gracious, Most Merciful.
All praise and thanks are due to Allah, and peace and blessings be upon His Messenger.
Dear questioner, thank you very much for having confidence in us, and we hope our efforts, which are purely for Allah's Sake, meet your expectations.
In the first place, we would like to stress that in vitro fertilization is permissible as long as the semen and ovum are from a husband and wife who are legally married and the fertilization takes place during their marriage, not after divorce or the death of the husband.
Responding to the question, Dr. Muzammil Siddiqi, former President of the Islamic Society of North America, states the following:
"In vitro fertilization is a new biomedical method to help couples who are otherwise not able to have a child through normal husband/wife relationship.
Modern Muslim jurists did research on this method and in the light of the Shari`ah principles have given their opinions. In the following, I am going to give a summary of their modern ijtihad on this subject.
First of all let me explain briefly what is in vitro fertilization. It is a biomedical method that is generally used when, due to some obstruction, the sperm of the husband cannot reach the ovum. In this case the ovum is removed from her ovary at the time of ovulation.
This ovum is then exposed to the husband's sperm in vitro in the hope that it will be fertilized. The fertilized ovum is then maintained in a test tube and at a later stage when it becomes an embryo it is deposited in the woman's uterus. Thus, a woman who would otherwise not be able to conceive a baby is able to have a normal pregnancy and the couple enjoys the child.
Based on the principle that the Shari`ah came to protect and preserve the lineage or nasab of the people and thus it is haram to marry a woman during her `iddah or to have an intercourse with a woman who is carrying another person's pregnancy, the Muslim jurists have allowed the use of in vitro fertilization only between legally married couples during their marriage.
Thus in vitro fertilization is permissible as long as the semen and ovum are from the couple who are legally married and the fertilization takes place during their marriage, not after divorce or the death of the husband.
A divorced woman is not allowed to receive the fertilized ovum (embryo) from her ex-husband. Similarly, a widow is not allowed to take it after the death of her husband. Surrogacy, i.e., giving the embryo to another woman to carry on the pregnancy in her womb is also not permissible in Islam. It also not permissible for a Muslim woman to act as a surrogate mother."
The Benefits and Dangers of Marriage
Reprinted from Ummah.com's archives
Benefits of Marriage
The main benefits of marriage are:
Seeking children:
Marriage contributes to the building of society, propagation of the human race, and increasing the numbers of Muslims. Pleasing the Prophet (pbuh), by increasing the numbers of his followers. "Marry the loving and child-bearing, for I shall outnumber the nations by you on the Day of Resurrection." (Ahmad. A similar narration has been recorded by al-Bayhaqi and al-Tabarani, and Hafiz ibn Hajar cited it in "al-Fath" indicating that it is hasan or sahih according to him)
Seeking blessings through a righteous child through his Du'a and other good deeds on your behalf after your death, or should the child die young then through his intercession.
"When the son of Adam dies, his good deeds come to an end, except from three [sources] : perennial charity (sadaqah jariyah), knowledge from which benefit is obtained, and a pious child who prays for him." [Riyad al-Saliheen]
Other benefits are –
Protection from Satan through legitimate channelling of the reproductive drive, thereby saving oneself and one's spouse from related sins.
Peace of mind and companionship, development of love and mercy between the spouses.
Development of ties between families.
Sharing of tasks in the household, such that the overall burden on each person is less.
Inculcation of a sense of responsibility and improvement of one's self through expending effort and making sacrifices for the protection and welfare of one's family, taking care of their needs (physical, material, emotional, spiritual), and bearing inconveniences and each other's faults patiently.
Dangers of Marriage
At the same time, there are potential dangers to marriage, which one must watch beware of and try to avoid.
Among them :
Failure to earn halal income, such that one turns to increasing his income through haram means, in the effort to spend on one's family.
Failure to fulfil the duties of marriage, in particular the rights of the wife, or failure to be patient with its difficulties. "Every one of you is a guardian, and every one of you is liable to be questioned about those in his care. The man is a guardian with regard to his family, and is liable to be questioned about those in his care. The woman is a guardian with respect to her husband's house, and is liable to be questioned about that in her care. So, every one of you is a guardian, and every one of you is liable to be questioned about those in his care." (Bukhari, Muslim)
Being distracted by one's family from religious obligations, such that one spends his days and nights in enjoyment with them without caring to ponder over the Hereafter to work for it. 

"O you who believe! Let not your wealth or your children distract you from the remembrance of Allah. And whoever does that, they are the losers."

[Quran, 63:9]
Conclusion
"A dinar which you spend in the path of Allah, a dinar which you spend [to free] a slave, a dinar which you give as sadaqah to a needy person, and a dinar which you spend on your family : the most superior of these is the one which you spend on your family."
Our Lord! Grant us wives and offspring who will be the comfort of our eyes, and makes us leaders for the pious. O Allah! Grant blessings and peace to our master Muhammad, and to his Household and Companions.
Conversations with a pregnant wife, Part 1 – "Honey, I have a craving!"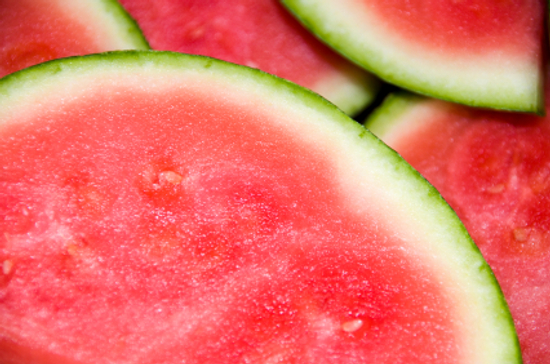 This was originally published as, "Honey, You're Pregnant" on IslamOnline.net
Part 1: Honey, I Have a Craving!
Part 2:  Watch Out, She's Moody!
Part 3:  What's in a Name?
By Yasser Aboudouma
Writer, Civil Engineer – Egypt
There are common arguments, especially in Egypt, that are repeated daily between each husband and his lovely and adorable wife, who by the way is pregnant for the first time!
Usually, the story begins when the wife suspects that she is pregnant. She runs to the nearest lab for a pregnancy test, and once she is confirmed pregnant, all her life is changed and her husband's life is pushed to the edge, or more pointedly, to the verge of collapse.
"I have to see a good doctor," the wife says.
"But, your doctor is good and she has a good reputation," replies the husband.
With the start of a period of pregnancy, there are a lot of requests, orders, and special considerations, and the poor husband has to listen and obey, because her majesty is going through her first pregnancy!
* * *
First Month
Wife: I want to see a male doctor like all my girlfriends. My doctor is old and boring.
Husband: Honey, you are veiled, and there is no necessity to visit a male doctor; and whether your doctor is old or young, what matters is her experience and qualifications. If you don't feel comfortable with your doctor, we can look for another female doctor.
Wife: NO! I know that females are not that experienced in medicine.
Husband: (mumbling) In everything, not only medicine!
The arguments continue till the husband succeeds in convincing his wife that another female doctor would be good, especially that she is a little younger than the previous doctor. But, the wife is still unhappy as the new doctor does not have the latest high technology of ultrasonography.
Wife: See! This doctor also failed to show me the baby.
Husband: Honey, you are still in your first month, there is no baby to see.
Wife: My friend's doctor showed her the baby in her first month, and the baby was moving, plus she could hear his heartbeat.
Husband: Oh yeah! And the baby was walking too, right! In the first month, the baby looks like a dot.
As usual, that argument ends with going to one of the private hospitals where there are the latest medical equipment. At the hospital, the doctor explains to the wife that there is no way any instrument can show a baby, its movement, or its heartbeat, as the baby is not big enough. Finally, they quietly return back home and the wife realizes that she has to wait.
* * *
Second Month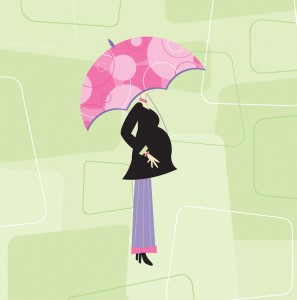 The second month of pregnancy means nausea and cravings for certain foods. Hormones start to increase rapidly, which affects the pregnant woman's behavior with her husband and her colleagues at work. Be careful if you have pregnant women at your company and/or office.
Wife: Honey, I have a craving for watermelon with no seeds.
Husband: I have never heard of that! Watermelon with no seeds!
Wife: That's not my concern. I crave for it and I want it. Do you want our baby to be born with a birthmark?
Wife: I think my tummy is a little bigger than normal. I believe I have twins!
Husband: No, your tummy is still the same, and the doctor told us that you have a single baby, not twins.
Wife: So! Maybe the doctor could not see him.
Day after day, this kind of dialogue goes on and on, especially when the wife goes to work. Expect your pregnant wife to return from work in a bad mood, nervous, and quite, quite mad because …
Wife: (nervously) I have to quit work. I will give them my resignation tomorrow. I can't handle work and all the people there. It's OVER!
Husband: What happened?
Wife: Imagine. At the weekly meeting, my manager suggested something that should be done. I told him that I don't think it's beneficial to work. He kept arguing with me, and he wasn't convinced by what I said.
Husband: That's normal. He is your boss, and he has a right to argue with you about work.
Wife: Men, men, men! You are one of them, and all men are the same – sure you'll defend him. No, he has no right to do so and no right to argue with me; he meant to irritate me. All of the men in the meeting, and the world, have to take a one-way trip to Iraq, and I'm ready to pay for the tickets!
Wife: Also, that girl in the meeting, instead of supporting me and taking my side, she supported him and made more suggestions that I have to implement.
Husband: Honey, it's normal; that girl is your close friend and she has always been kind to you.
Wife: NO! It's not normal. They have to know that I'm pregnant and my increasing hormones affect my mood, so they shouldn't argue with me at all!
Husband: Sweetheart, let's forget all about work – what do we have for dinner today?
Wife: (In a very shy, soft, and passive voice) Honey, do you really want something to eat today? I was nervous today and needed to rest because I was worried about the baby. But there's a tin of tuna in the kitchen.
Husband: What! You will not join me for dinner?
Wife: No. When I had finished the meeting, I returned to my office and ordered some food to help me relax.
Days will pass, and life will crawl along slowly until "this woman" reaches her third month of pregnancy.
* * *
Third Month
In this month, the pregnant wife is assured that she has a single baby. Hormones increase rapidly, which affect the routine of her life and make her feel lazy and sleepy most of the time. She will be curious to see the baby each and every day, and she will want to trace its growth accordingly.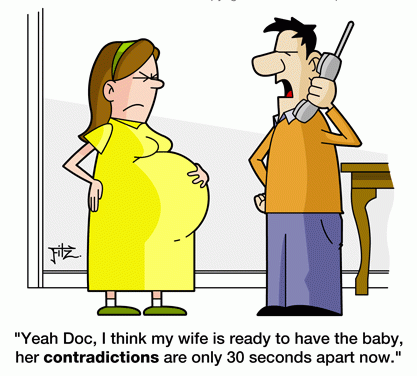 Wife: Yesterday, the doctor didn't show me the baby well. The baby's hand didn't show up clearly.
Husband: Don't worry. The doctor and I saw the baby, and it looked really great.
Wife: I'm not asking for what you and the doctor did or didn't see! I have to re-visit the doctor next week, and I'll ask her to show me the baby.
Husband: She arranged the next appointment for next month, not next week.
Wife: No problem. She won't remember, and my friend told me that her doctor had ultrasound and showed her the baby on a weekly basis.
Husband: Honey, your friend is in her sixth month, while you are in your third.
Wife: Arrrrrgh! Stop arguing with me. You are just like my colleagues at work; useless!
Or the dialogue may go back to the size of the wife's "tummy"!
Wife: Honey, I think my tummy is starting to get bigger.
Husband: No dear, I think it is still the normal size.
Wife: You see, my pregnant friends told me so. They also told me that in the third month my tummy starts to get bigger. Plus, I'll feel the baby's movement and I'll hear his heartbeats too.
Arguments, arguments, arguments; your life will be all about arguments with your sweet, pregnant wife! You have to be patient and quiet, and you must support her, even if she surprises you by trying to manipulate everything for her own benefit.
Wife: Honey, I want to eat something.
Husband: What's that, sweetheart? We can have it delivered here.
Wife: I wish to eat at that restaurant we went to on the day we got married.
Husband: Yeah, but it's far away from here and previously you complained that you get tired from being in the car, especially for long distances.
Wife: No, no. If we go to that restaurant, I won't feel tired.
Husband: OK honey, we'll go this weekend.
Wife: No, I want to go today, NOW – otherwise, the baby will be born with a birthmark! as I crave eating in that restaurant.
Husband: Sweetheart, I understand that pregnant women crave for certain kinds of food, not certain kinds of restaurant!
Wife: Have you ever been pregnant? How would you know about cravings? This is my desire.
Of course, these arguments end in one direction only, the pregnant wife's direction; and the husband has to admit that he will lose his case to his wife, who represents the half of society, whom we call weak!
Part 2:  Watch Out, She's Moody!
Part 3:  What's in a Name?
***
Yasser Aboudouma is an Egyptian-Canadian who lives between Cairo and Ontario. He holds a B.Sc. in engineering and a diploma in project management. He is interested in issues of social and cultural differences.