August 2004
The Overlooked Experience
Touring Upper Egypt
by Shaden Mohamed
The roof of King Tut's tomb
The French Train
The first thing that people think of when they hear the word Egypt is "pyramids," followed by "Pharaohs, tombs, and mummies." It is not until they venture into Egypt that they discover the true beauty of the culture - past and present.
When I visit Egypt, seeing the pyramids is convenient because our apartment is only a short drive away. One year, however, my family organised a trip to Luxor and Aswan, and that week was perhaps the single most wonderful time of my life to date. Along with my mother, sister, brother, cousin and friend, we boarded the "French train" from Cairo to Luxor. The train was beautifully designed with cabins and sleeping quarters, dining rooms and social lounge areas.
After hours of watching the ever-changing scenery, the desert landscape finally set in and after that we spent hours playing cards and nibbling on a variety of nuts and 'leb' (pumpkin seeds). By the time we reached Luxor the pile of seeds and shells was so high I'm sure the Guinness Book of Records would have recorded it if they were there to see!
The Upper Egypt Experience
I can tell you about the amazing tombs and ancient architecture, but if you have ever been there yourself, you will understand why no amount of detailed description could re-create the experience you get from being there in person. No documentary, no book and definitely no story told by a sleazy tour guide could come close to portraying the magnificence and grandeur of the ancient Egyptian world. The sheer sight of a stone, with the simplest of engravings, succeeded in taking my breath away.
The temple of Karnak, known for its massive columns
Standing in the resting place of a powerful King, who once ruled all of Egypt, brought me to tears.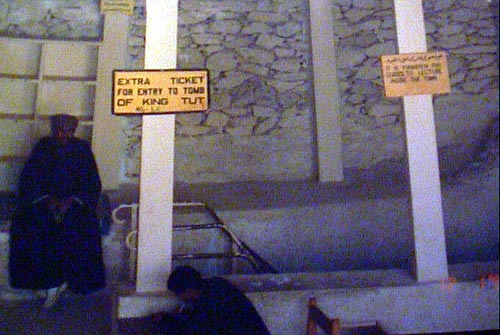 Entry to King Tut's Tomb
This is what overshadows the simpler joys of Luxor & Aswan - the 'Upper Egypt' experience which is often overlooked, but one which helped to make this adventure such a memorable one.
A Deserted Hotel
After visiting the tombs and spending all day with an over-enthusiastic guide, we all went back to our hotel for a light nap and to re-energise. The hotel we stayed in was quite ordinary - thanks to our tour company we were placed in a mediocre hotel which seemed deserted - if not out of business - when we arrived. The rooms were quite nice, and the fact that no one was there meant we had the whole floor to ourselves (running in and out of corridors is an effective way to pass the time, even as a teenager).
My brother Shehab made a deadly mistake and ordered something from room service. Till this day I'm still not sure what disturbs me the most - that it took 3 hours to bring up to our room, or the fact that it was lukewarm and verging on passing as 'hospital grade' food.
Trip on the Nile
The next day we decided to take a trip on the Nile in a small yacht. The things we saw were absolutely astounding - children in mini-canoes, fearless of the Nile which was deep and uninviting to those unlucky enough to fall in.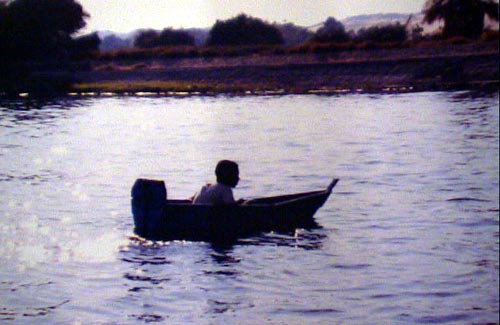 A mini canoe on the Nile
The 'Captain' of our little boat told us stories about crocodiles, people underestimating the dangers of the river and drowning because they were not strong enough swimmers, people who had caught strange looking things while fishing. As we sat in the warm sun listening to these fantastic tales, it wasn't long before we all dozed off. When we woke up the sun had almost disappeared and the Captain had also fallen asleep! We were all a bit dazed and disorientated, but the Captain dropped us off and we took a taxi to the nearest restaurant for a quiet dinner by the Nile.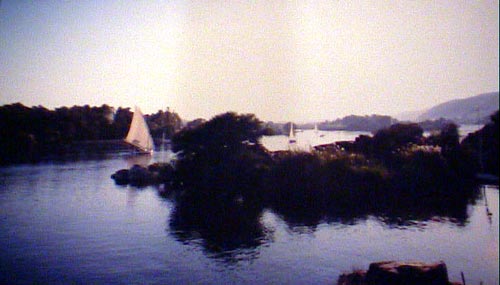 A view of the Nile
No Calamari
My sister Sheri, who had been craving calamari (one of her favourite dishes), always asked for it, even if it wasn't on the menu. "I will have the calamari please," she said very casually. The waiter then replied the same thing we had heard from every restaurant in Luxor: "Sorry we do not have calamari." My mother was so frustrated by Sheri's stubborn behaviour and failure to accept that calamari was not a menu item that she exclaimed: "We are not in Sydney! You can not get calamari from anywhere! Especially not from a restaurant by the Nile! There are no squid in the Nile!"
My sister was quite upset at this revelation, and the waiter felt so sorry for her that the restaurant served up a special plate of fried calamari just for her! Do not ask me where they managed to find it, but it was such a nice gesture that even my mum managed to smile.
Late for the Bus
Our trip to Luxor was a real eye-opener - we had seen almost every tomb and tourist attraction in the area, but getting up at 4am every morning for the tour bus had taken its toll. On one particular morning we had to rise at 4am in order to get ready for our trip to the Valley of the Queens. Our friend Nadia had woken up on due time, and decided to get ready. Meanwhile no one had awoken yet. When she attempted to wake us and failed, she gave up and fell back asleep!
A few hours later the tour guide was practically knocking down our door. "Wake up! Wake up! You are going to miss the bus!" Everyone seemed to spring to life, running around like chickens with their heads chopped off (all except for Nadia, who was strangely already dressed!) And of course when we were greeted by a bus full of bright-eyed Europeans, equipped with their cameras and notepads, we realised that the organised tour-bus thing wasn't working. They had waited almost an hour for us to get ready, and they were not impressed. One German seemed to forget his anger when we struck up a conversation with him.
"Have you seen the tomb of Tutankhamun?" I asked.
"Ya it vas incredible. I paid 150LE (pounds) to go inside for 15minutes," he stated proudly, apparently thinking he got a discount.
"Really?" I continued, "since we are Egyptian we only paid 4LE."
The German vas not pleased.
Nadia Takes a Tumble
When we arrived in Aswan we decided to give organised tours a miss. Thus the atmosphere quickly became more relaxed and we spent the last few days shopping, bargaining in bazaars, trying unusual delicacies from the market and purchasing the best quality henna money could buy (for our eagerly awaiting aunties back in Cairo).
The highlight of the time spent in Aswan, however, was taking a cruise along the Nile on a 5-star ship. We were walking along the Nile after a long day shopping, when we spotted a few ships pulling up to the port. We decided to investigate, and began to descend the loose, cobble-stoned stairs that led down to the waters' edge.
Nadia - who had borrowed my shoes - had been struggling all evening. She had insisted on wearing them, despite the fact that they were too high and too big for her. She tripped and jumped with every step, as if she was dancing instead of walking. It wasn't long before she stumbled over herself and fell head first down the stone steps. We all watched in horror as Nadia - who was quite a big girl - began to roll down the stairs. As she built up speed, we could hear her mumble in pain as she hit every stone, rock and pebble in her path. When she hit the bottom we all dreaded the worst, but in 3 seconds flat Nadia was up on her feet and walking as if nothing had happened! She dusted off her clothes and adjusted her hair before saying, "Let's go! I'm ok!" It was as if she had rolled down on purpose to save time, I could not believe my eyes. We all began to laugh at this predicament, for she had not only avoided breaking her neck, but she had also walked away as if she had not been hurt. Her face was covered in scratches, and her knees were bleeding so much that the blood began to come through her pants! And yet she never winced once, and refused first-aid. Perhaps being in denial helped her deal with the pain.
And with that, we all stepped up to the luxurious Nile cruise ship, staring in excitement as we waited to board….
The Overlooked Experience, Part Two

---
Shaden Mohamed is in her 20's. Of Egyptian background, she was born and bred in Sydney where she attained a degree in Media & Communications. As an accomplished writer, Shaden has a passion for educating and informing others in her community on the beauty of her culture. "My dream is to inspire people with my writing because I believe that literature is the most beautiful form of expression."
If you enjoy these stories, let us know. Your feedback is important and is always appreciated.