Feelings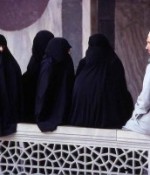 May 21, 2019
My husband is not polygamous, and says he does not have an interest in polygamy, but still I find myself living in constant fear and worry that he will one day change his mind and I'll find myself in one of these marriages.
Full Story»
I would NEVER in my life want to get sins over a few seconds of pleasure. It is basically a trade off, should I look at this picture and masturbate for a couple minutes and feel more pure in the mind, or should I be burdened by the constant haram pictures in my head?
I asked my mother just to meet them once at least, but she says my your father will never agree and he will blame her for sending me to the institute, and she can't make life more hell. I told her to try to convince him in a proper way, but she doesn't agree, and she said that I'm trying to break her trust by saying this.

My father mentally torture us siblings and my mother with his words. He didn't hit us ever, nor my mother. But he use his words and says things that shatter us and our confidence. My mother has never been happy in this marriage, I can see that, but she never says a single word to him.
More in this category