Heartbroken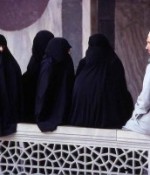 May 21, 2019
My husband is not polygamous, and says he does not have an interest in polygamy, but still I find myself living in constant fear and worry that he will one day change his mind and I'll find myself in one of these marriages.
Full Story»

e had asked me for the full truth, as his gut was telling him I had hidden so much. I told him some truths and then swore it was everything. He then begged me that there was more and I should come clean so I told him a few more things but still hid others. He then said he would go to my ex-friends and ask them if I didn't come clean myself. Afraid of the humiliation, I told him every detail. I explained to him that I never wished to hurt him, and my intentions were always pure.

Ashique changed day by day. his anger arrogance everything became extreme. i feel like am left alone in dunya. i have no support and don't know any Muslim people in dunya. my parents are extremely against this religion.
I have faced problems in my life before too, but this time it's too overwhelming. I had really bad depression and anxiety, even then I never lost hope in Allah swt. But this time it's very different, and I really hate this feeling. I feel that Allah is not accepting my duas. I get all negative thoughts in my head, and I'm so scared to say this- but sometimes I get angry at Allah.
More in this category