Impatience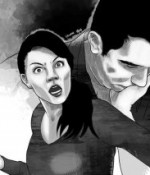 September 19, 2020
She began to take her frustrations out on me. So she began to wallahi kick me, stomp on my feet, scratch my face, etc.
Full Story»

I want to look online for answers during tests and homework because I'm not going to learn the material anyways, even if I try.

My wife is threatening to leave me. When I start crying, she says "Ok I was just joking but I am giving you a time limit, settle down everything soon."
There's really no solution for me and I feel like my whole world is falling apart. I don't want to find anyone else because they're not him and that kills me.
More in this category