Jealousy and Suspicion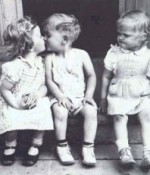 February 7, 2019
I know they will take pictures of our baby, and the lady will send it straight to his ex, so I did tell my husband I would ask them not to, and also tell them the reason why. My husband said it's not right, but I could do what I think is best.
Full Story»
There is so much hate in his family. Everybody is disturbed in the mind. I have always had fingers pointed at me for the years I served them. I have been insulted by his family since the first day, and every time I went there. I want to be happy with my husband, and I don't want anyone in my personal space.
It's been over 6 months since he's touched me, he says he no longer wants to be with me and now I have to put up with them cuddling and kissing while I am ignored. I feel left out, hurt and jealous.
I have had a tough time at school because of one toxic person… I was a victim of her jealousy and envy and her constant wanting of my attention and ruining my life.
More in this category