Breaking an Engagement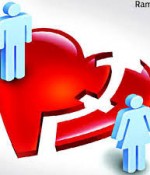 December 16, 2019
Just a week before we were going to visit her house for formal confirmation, she started having doubts and decided that we weren't right for each other! Even though the same day she made the decision, she was expressing her love for me like she always did!
Full Story»
Is it pre-wedding jitters or a close call of gut instinct? A silly epiphany or a life-changing decision from satan or Allah?
Should I be with someone who loves me as I am, cares for me, and desperately wants to marry me but for whom I dont feel the same way?
Is this really a sign from Allah that we should not be together, or are these just complications that come with love marriages?
More in this category