Relationships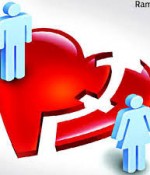 March 12, 2020
I don't want to do the marriage.. I am not ready for these things now.. I don't know what i should do..
Full Story»
I had put a lot of effort for this relationship as it was a long-distance one. It keeps haunting me that he will soon marry another girl and maybe he'll stay happy.
There's really no solution for me and I feel like my whole world is falling apart. I don't want to find anyone else because they're not him and that kills me.
I told him all of my issues he said he will wait but still my parents aren't agrreeing bcoz of his qualification.
More in this category