Don't want to get married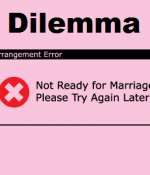 March 29, 2021
Why are these things imposed on me just because I marry? It makes me not want to marry, honestly.
Full Story»
My mother tried to force me to marry an Afghan female cousin back home, but isn't that against the teachings of Islam on more than one count?
Are these really thoughts from my own mind to trigger my anxiety or are they a warning of some sort or shaytan?
I don't want to do the marriage.. I am not ready for these things now.. I don't know what i should do..
More in this category