Child Abuse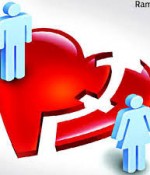 March 12, 2020
I don't want to do the marriage.. I am not ready for these things now.. I don't know what i should do..
Full Story»
I am from an abusive home….I give myself two weeks to gather courage to move out and get myself together, and if I can't gather the courage, then I'm going to remove myself and cease to exist
I'm being emotionally abused at home and am wondering if it would be a sin to move out. I've considered suicide.
I am at a turning point. My father does not care if he is naked in front of me. He doesn't lower his gaze and I have advised him, but he simply said that he didn't know I was around. This doesn't happen once but plenty of times, as our rooms are opposite each other. My mother, on the other hand, does not share the room with him anymore, and has since made the living room entirely hers, even getting dressed in front of my nephews.
More in this category