Emotional/Psychological abuse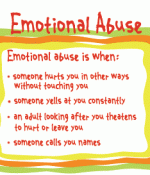 March 2, 2019
i have a really mestup life. i have a mental illness called autism social phobia and depression  wich i think i got from my  father. i have been abused by my father since i was 8. he abused me both mentally and physically.
Full Story»
There is so much hate in his family. Everybody is disturbed in the mind. I have always had fingers pointed at me for the years I served them. I have been insulted by his family since the first day, and every time I went there. I want to be happy with my husband, and I don't want anyone in my personal space.
I get it parents are to be cherished no matter how they are. But this also means we can't protect ourselves. Emotionally abusive parents are evil masterminds.
They all were nice to me. Later on they found out I had head lice. Since then I started self-harming myself and my parents found out and I got grounded.
More in this category