Verbal Abuse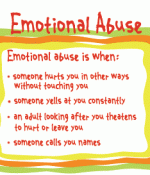 September 3, 2019
My husband of 5 years abuses me emotionally and has divorced me several times already. He always takes me back the next day though.
Full Story»
I'm being emotionally abused at home and am wondering if it would be a sin to move out. I've considered suicide.
Married to a highly educated person, who is angel in eyes of others is a mental torturer for me. Has no sympathy towards me not even on humanitarian basis.
He complains about the house being a mess even though he knows i am in pain constantly, and therefore takes his anger out in the girls, how they´re dirty and messy and a dog is cleaner than them.
More in this category