Verbal Abuse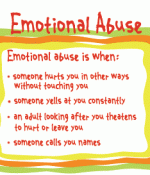 March 2, 2019
i have a really mestup life. i have a mental illness called autism social phobia and depression  wich i think i got from my  father. i have been abused by my father since i was 8. he abused me both mentally and physically.
Full Story»
All I really need is some help. I'm totally broken and sometimes I fear that I might do something crazy, kill myself maybe but I have a sister who's just 8 yrs and just like a daughter to me.

They make fun of me every day. I can't take it anymore.

I am very scared and try my best to be the wife he wants but I see that he will never be satisfied.
More in this category