Children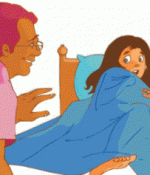 February 4, 2019
I realized that I would never be able to have contact with a man, since I cringed at every touch. My father ruined everything for me, and I was really disgusted. I just faked it, since I could not and was not allowed to tell my husband what happened in my past (My mom insisted on it, she said that if that came out me, my father would be viewed a certain way by people).
Full Story»

gave up on Allah and committed a lot of sins. One of these sins was stealing. At my work I could steal a lot, from clothes to makeup and even money. No one ever knew that things were missing, so it was very easy for me to do.
I get it parents are to be cherished no matter how they are. But this also means we can't protect ourselves. Emotionally abusive parents are evil masterminds.

I just want to live a peaceful life and be happy. My mother is very kind and loving, but she doesn't understand what I'm going through. She tells me I'm a coward and that I should be brave, but it's so hard. My family is very dysfunctional and it affects me deeply.
More in this category