Teen Issues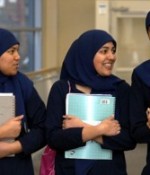 June 5, 2018
I had two great friends. They mean a lot to me. But nowadays they do not behave well with me. they don't talk to me. These things hurt me. I can't take this anymore.
Full Story»
I am 16 but there is this guy I have met who is 25 years old… Shall I wait for him?
I'm going through a lot of torture and oppression and I can't take it anymore.

omy doesn't leave me starving. I fear nothing more than Jahannam and Allah's wrath, but from worldly fears I fear a husband like my dad.
More in this category