Fear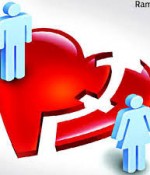 March 12, 2020
I don't want to do the marriage.. I am not ready for these things now.. I don't know what i should do..
Full Story»
Will my baby be bad like me? Will the baby have mental or behavioural problems because of my addiction?
I'm so far astray because I have had sex so many times with multiple people…I'm afraid I will never be forgiven.
I do not want my husband to have Hoor al Ayn in heaven under any circumstances. Why can't I just marry a Non-Muslim man? I mean, the Muslim husband will go away from me to his Hoors!
More in this category