Hurt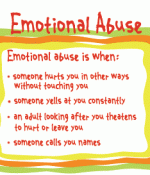 September 3, 2019
My husband of 5 years abuses me emotionally and has divorced me several times already. He always takes me back the next day though.
Full Story»
I'm being emotionally abused at home and am wondering if it would be a sin to move out. I've considered suicide.
I am married to a man who lies and cheats. My supervisor at work hugged me when I was crying. For the first time I felt comforted and secure.

It's been a year and a half since he's been back. We don't really spend much time together, as he works 7 days a week and is always tired. He has been taking care of me and helping me a lot and has been saving money, but whenever he returns from work most of the time he's always stressed.
More in this category