Hurt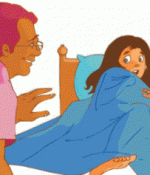 February 4, 2019
I realized that I would never be able to have contact with a man, since I cringed at every touch. My father ruined everything for me, and I was really disgusted. I just faked it, since I could not and was not allowed to tell my husband what happened in my past (My mom insisted on it, she said that if that came out me, my father would be viewed a certain way by people).
Full Story»
There is so much hate in his family. Everybody is disturbed in the mind. I have always had fingers pointed at me for the years I served them. I have been insulted by his family since the first day, and every time I went there. I want to be happy with my husband, and I don't want anyone in my personal space.

gave up on Allah and committed a lot of sins. One of these sins was stealing. At my work I could steal a lot, from clothes to makeup and even money. No one ever knew that things were missing, so it was very easy for me to do.
My fiance keeps telling me that he's not ready for marriage.
More in this category