Insecurities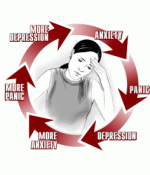 July 1, 2019
I don't know what's the problem, but when I'm near to ALLAH I feel good, but I feel something is wrong in myself. I get alot of migraines. I cry alot. I'm a Muslim girl living far away from my parents in another country, for international studies. I feel something is not normal in me. I feel a lot of heaviness in my body.
Full Story»
It makes my heart bleed to think that one can simply play with someone feelings and causally say sorry without thinking about the pain the other goes through.

I have tried to speak with him in calmer times to explain that his behaviour of getting angry over minuscule things then blaming me for his vile language is a classic example of verbal and emotional abuse, and suggested we look into counselling or advice from any Imam, Sheikh, scholar etc that he feels comfortable to speak with, but he refuses.
We were together maybe a week or so just texting and video calls. He introduced his siblings (they were younger). He asked me to meet him after college, I simply said no and he was kind of upset that I don't trust him. I told I did, but I was not comfortable plus I can't cheat my parents. He understood and promised he won't ever do that again.
More in this category