Stress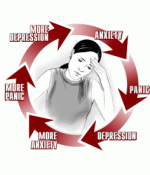 July 1, 2019
I don't know what's the problem, but when I'm near to ALLAH I feel good, but I feel something is wrong in myself. I get alot of migraines. I cry alot. I'm a Muslim girl living far away from my parents in another country, for international studies. I feel something is not normal in me. I feel a lot of heaviness in my body.
Full Story»
Even though I have changed myself and ready to give in to everything that my wife wants, still she feels that she is the lone one suffering in this marriage. I have done and want to do everything to make her feel good and positive about our relationship but it's somehow never enough, and the reason is because of what has happened. I can't go in the past and redo it.

I have tried to speak with him in calmer times to explain that his behaviour of getting angry over minuscule things then blaming me for his vile language is a classic example of verbal and emotional abuse, and suggested we look into counselling or advice from any Imam, Sheikh, scholar etc that he feels comfortable to speak with, but he refuses.
I am at a turning point. My father does not care if he is naked in front of me. He doesn't lower his gaze and I have advised him, but he simply said that he didn't know I was around. This doesn't happen once but plenty of times, as our rooms are opposite each other. My mother, on the other hand, does not share the room with him anymore, and has since made the living room entirely hers, even getting dressed in front of my nephews.
More in this category