Mental Illness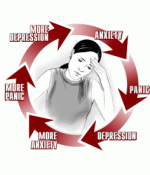 July 1, 2019
I don't know what's the problem, but when I'm near to ALLAH I feel good, but I feel something is wrong in myself. I get alot of migraines. I cry alot. I'm a Muslim girl living far away from my parents in another country, for international studies. I feel something is not normal in me. I feel a lot of heaviness in my body.
Full Story»

I have a bipolar sister. She has been suffering for around 15 years. How do we help her? Not talking to her, and not doing anything, will not help.
I really love him alot and don't want to risk my forever without him. So if I die without marrying him, is there a chance I meet him in Jannah?
We would fight often. It was later diagnosed that she was under the influence. She could see things. She got possessed. Either it was that, or she was schizophrenic. I started taking extra, extra care of her.
More in this category