Can I Marry Him (or Her)?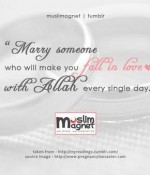 July 19, 2017
I don't know… marriage is meant to be simple but this feels so complicated.
Full Story»
I hope that someone can advice me or answer my questions.
I could so easily get a girlfriend and do all what I want with her, but when I try doing it the halal way, rejection is all what I get.
Help me please let me sort out all this mess in my head.
More in this category