Marriage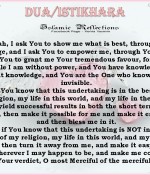 December 4, 2018
Our hearts are not able to accept to move apart even now.
Full Story»
I understand man doesn't need permission from first wife to marry second wife but does he has a right to lie and cheat?

They say because he is Mexican and too young… He isn't Muslim so he is willing to convert for me.

He has stopped caring about his appearance… I feel disconnected and I am scared that I will not be happy with him or may fall into sin….
More in this category