Marriage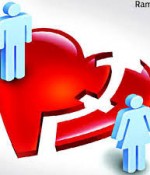 March 12, 2020
I don't want to do the marriage.. I am not ready for these things now.. I don't know what i should do..
Full Story»
I had put a lot of effort for this relationship as it was a long-distance one. It keeps haunting me that he will soon marry another girl and maybe he'll stay happy.
I told him all of my issues he said he will wait but still my parents aren't agrreeing bcoz of his qualification.

The guy keeps doing Istikhara and he says he dreams about the girl being in pain, trouble or either really sick.
More in this category