Polygamy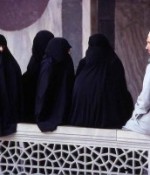 May 21, 2019
My husband is not polygamous, and says he does not have an interest in polygamy, but still I find myself living in constant fear and worry that he will one day change his mind and I'll find myself in one of these marriages.
Full Story»
After 1 year and 5 months of being engaged, we finally got married February 2016. Everything went well at first. However, I am slowly learning that there are things that was wrong. I was never introduced to his family.
Even when he got married, he would still text me and tell me how much he loved me and that he wants to marry me. He is not happy with his wife, and he used to blame me for everything because I didn't take a stand and marry him against my parents wishes.
I understand man doesn't need permission from first wife to marry second wife but does he has a right to lie and cheat?
More in this category