Arguing and Fighting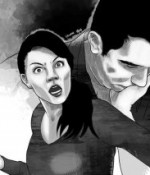 September 19, 2020
She began to take her frustrations out on me. So she began to wallahi kick me, stomp on my feet, scratch my face, etc.
Full Story»
My father is not in control of his anger and is constantly picking fights and criticizing all of us. He isn't religious but preaches to the rest of us!

My wife is threatening to leave me. When I start crying, she says "Ok I was just joking but I am giving you a time limit, settle down everything soon."
My wife is so suspicious that she think I had relationship with my brother's wife, but honestly I have no affection or relation with her.
More in this category