Proposing Marriage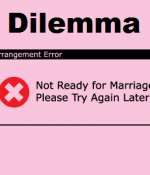 March 29, 2021
Why are these things imposed on me just because I marry? It makes me not want to marry, honestly.
Full Story»
Can I consider more than one proposal at a time?
I checked his social media and found that he follows several indecent adult pages. This turned me off, even though my parents are trying to blackmail me into marrying him.
Should I take my mother's hesitance and disapproval as a sign from Allah and the answer to my Istikhara?
More in this category