Amulets (Taw'eez / Tameemah)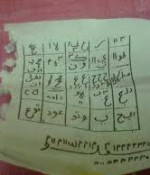 February 16, 2022
My mom has had magic done on her by one of our relatives abroad. The relatives keep asking for money and my mom complies!
Full Story»
Can we reject a proposal because of negative traits in the girl's family?

My marriage from day one has had more downs than ups, i feel like im in a nightmare, i want this marriage to end.

I just want to know the exact situation that what is happening in my house and with my family. Is my family suffering from black magic? And who has done this?
More in this category