Amulets (Taw'eez / Tameemah)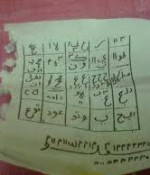 December 29, 2015
I just want to know the exact situation that what is happening in my house and with my family. Is my family suffering from black magic? And who has done this?
Full Story»

My sister is very sinful.We tried Taveez, Duas, Jinn Test… We even tried being nice to her. Please help.

I had worn these amulets with me all the time. Once I removed them I found out they consisted of papers with boxes with strange numbers and strange arabic writings…

I always faced rejections. When I wanted marriage I never married. If I wanted a job it never happened. Magic experts told us that it is magic blockage for everything.
More in this category