Bullying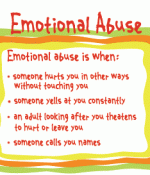 March 2, 2019
i have a really mestup life. i have a mental illness called autism social phobia and depression  wich i think i got from my  father. i have been abused by my father since i was 8. he abused me both mentally and physically.
Full Story»
They all were nice to me. Later on they found out I had head lice. Since then I started self-harming myself and my parents found out and I got grounded.

They make fun of me every day. I can't take it anymore.
I have had a tough time at school because of one toxic person… I was a victim of her jealousy and envy and her constant wanting of my attention and ruining my life.
More in this category