Sexual molestation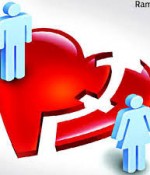 March 12, 2020
I don't want to do the marriage.. I am not ready for these things now.. I don't know what i should do..
Full Story»
I heard a noise like scratching in the window so I turned back to look…I stood there for second, and then when I realized what it was, I screamed out loud and called my husband. I had seen a mobile touching the bathroom window.

Upon opening my mother's messages, I saw that she had wrote to him "If anyone else had done what you had to my daughter, I wouldn't let them live in peace."

I have a cousin who touches me inappropriately. What should I do?
More in this category