Physical violence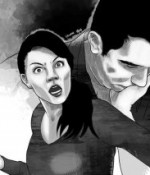 September 19, 2020
She began to take her frustrations out on me. So she began to wallahi kick me, stomp on my feet, scratch my face, etc.
Full Story»
I am 5 weeks pregnant but I am very worried because my husband is abusive and irresponsible.
Someone from my college has proposed marriage for me to my father, but since he is not from a wealthy family my father declined it. he is a practicing Muslim and his family also loves me. My father has rejected the proposal, and now he has chosen someone wealthy for me. Even though I don't like the guy I cant do anything, because he will beat my mother and me up.

When I tried to tell my dad not to touch me very calmly and respectfully, my sisters all turned to me and said "It's okay…he's my dad and can do whatever he wants."
More in this category