Depression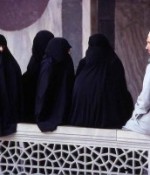 May 21, 2019
My husband is not polygamous, and says he does not have an interest in polygamy, but still I find myself living in constant fear and worry that he will one day change his mind and I'll find myself in one of these marriages.
Full Story»
I have been researching about solutions for all this, and I found that it's my right, as well as my duty, to make the right decision for myself…but my parents say that they don't care about Qur'an and Hadith. They actually blame me that I am hiding behind all this to serve my agenda.

Ashique changed day by day. his anger arrogance everything became extreme. i feel like am left alone in dunya. i have no support and don't know any Muslim people in dunya. my parents are extremely against this religion.

I feel horrible. Disgusting. I want to go back to God, I feel so bad. I cry at night, I can't sleep, I can't live with myself. I don't know how fix this. I want to go back to God, but because my faith in my Deen has been lacking, I keep getting influenced into bad things. I always let my drive for physical love get to me.
More in this category