Relocation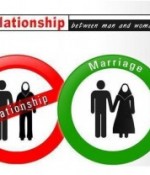 September 23, 2022
I met this boy many years ago and we struck up a haram relationship. Now he has moved to this town just for me while I have realized this is haram…What do I do?
Full Story»

We loved each other and wanted to marry, but his parents intervened. My heart is now shattered.

Freelancing is stressful because the availability of jobs is not consistent, but I cannot commit to switching jobs. I prayed Salat-al-Istikhara already.
My mother continues to make my life difficult and I'm approaching my limit with her. I've tried to respect her and her position but to no avail.
More in this category