Abandoned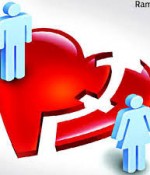 December 16, 2019
Just a week before we were going to visit her house for formal confirmation, she started having doubts and decided that we weren't right for each other! Even though the same day she made the decision, she was expressing her love for me like she always did!
Full Story»
I tried commiting suicide once because I could not get over him. I left my career for him. I fought with everyone around for him. He promised me to marry in the past.
He tells me to just accept it and that that's his personality…currently he spends every weekend sleeping at his parents as he says he needs that time for himself.
I had sex many times with my boyfriend but he left me for another. I feel so much pain.
More in this category