Intimacy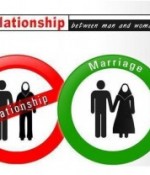 September 23, 2022
I met this boy many years ago and we struck up a haram relationship. Now he has moved to this town just for me while I have realized this is haram…What do I do?
Full Story»

My husband has been explicitly talking to other ladies, even going as far as sending inappropriate pictures and videos and attempting to meet up with them.

My boyfriend of three years took my virginity and left me devastated.
My husband has refused sex for 10 months, and my sexual needs remain unfulfilled.
More in this category