Didn't want to get married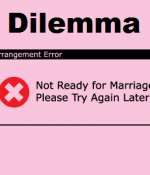 March 29, 2021
Why are these things imposed on me just because I marry? It makes me not want to marry, honestly.
Full Story»
Are these really thoughts from my own mind to trigger my anxiety or are they a warning of some sort or shaytan?
We can spend hours on end together both on our phones, and I would prefer to be browsing online as our real life conversations are not of much depth.
We do not have our legal papers in the United States, so we paid for arranged marriage. I was now legally divorced in the States with my main husband but we still lived together and the whole family understands we were only divorced for papers.
More in this category